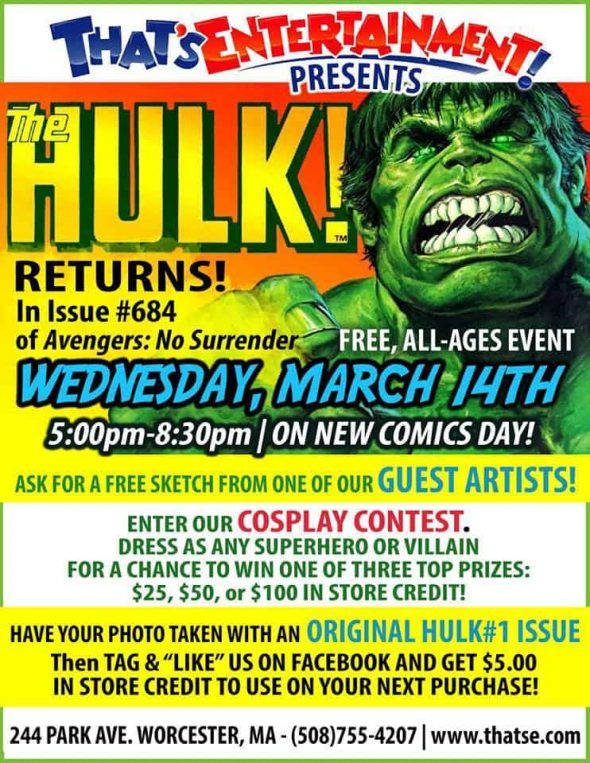 Press Release:
Hulk Out at That's Entertainment! Marvel Comics mainstay Bruce Banner, a.k.a. The Incredible Hulk, was "killed" almost two years ago, felled by the Avenger's archer, Hawkeye in the CIVIL WAR II series. But super-heroes rarely stay dead for long, and Bruce Banner finally returns in AVENGERS #684, on sale Wednesday March 14th!
"Bruce Banner is back," Marvel announces. "He's angry. And you've never seen a Hulk this angry before. The iconic goliath officially returns in all his green glory… Bruce Banner, unprovoked and unchecked, will take you on a frightening adventure as he battles to save the universe."
Worcester's That's Entertainment, the Eisner-Award-winning pop culture emporium at the corner of Park Avenue and Lois Lane, is gearing up to celebrate the occasion in a big way on March 14th from 5:30 to 8:30 p.m. They're calling their event a "Hulk-out." There's fun for all ages, and the public is invited.
First, you'll be able to get a photo of yourself holding one of the most sought-after comic books of all.

"We have a Hulk #1," reveals store Marketer, Sorana Gatej, "and we're giving fans a photo-op with it!"

"It's a nice original copy of Incredible Hulk #1 from 1962," continues store Manager Ken Carson, "graded at 4.0, or Very Good Plus. Some people may not realize that the Hulk was actually gray, not green, in his first appearance. Comics like this are artifacts of a different era, before super-heroes dominated the mainstream. First issues for the early Marvel heroes have become like museum pieces as time goes by!"
The issue will be put out for sale on the Saturday following the event, but for Wednesday night everyone can commemorate a moment with it for posterity. People who post their Hulk #1 photos to social media, and tag and like That's Entertainment, will be eligible for a $5.00 store credit slip, which they will be able to retrieve starting Friday, March 16th.

There will also be a cosplay contest. Contestants are encouraged to dress as their favorite comic book superhero or villain to compete for one of three top prizes: $100, $50, or $25 in store credit! Photos will be taken of each participating cosplayer and posted on Facebook. Winners will be determined by That's Entertainment staff members. Winners will be contacted after the event, and will also be announced on Facebook.

Comic artists Derek Rook and Laith Alabbad will be on hand drawing free sketches of the Hulk and related characters for fans. 
Derek Rook has provided artwork for such notable works as Lucio Fulci's Gates of Hell and Zombie, The Dead, Deadworld, and Gore Shriek. Under his comic book company label, Rough House Publishing, Derek plans to release his creator-owned titles, Beautiful Worcester and Angelduster. Although Derek works on numerous horror-related titles, he also passionately draws superheroes. 
Artist Laith Alabbad has worked on various independent projects in storyboards, book illustrations and comics. He's worked with independent self-published comic creators on a book called The All New Union! He is currently working on a personal project called Karbala.
That's Entertainment
244 Park Ave, Worcester, MA 01609
(508) 755-4207