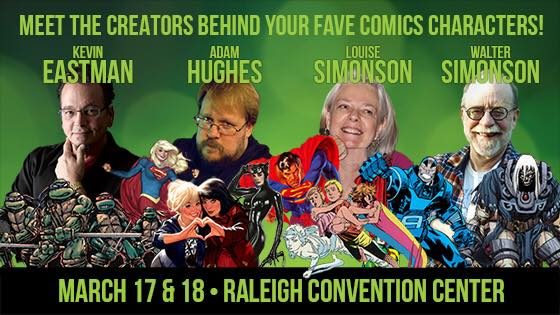 Press Release:
NC COMICON OAK CITY is less than a month away at the Raleigh Convention Center on March 17th and 18th! Get Comic Con tickets at Ultimate Comics now or at nccomicon.com/oak-city/tickets
Need a little incentive to buy those Oak City tickets? How about a guest list that includes:
Art Baltazar
Ben Bishop
Cap Blackard
Erik Burnham
Greg Burnham
Richard Case
Jen Cohn
Jackie Craft
Shane Davis
James "Buster" Douglas
Kevin Eastman
Tommy Lee Edwards
Tom Fleming
Franco
Chris Giarrusso
Brandon Graham
Brenda Hickey
Tini Howard
Adam Hughes
Orlando Jones
RJ Marchese
Bill McKay
Scott Reintgen
Rico Renzi
Geoff Shaw
Louise Simonson
Walter Simonson
Chris Sims
Brian Smith
Allison Sohn
Ben Templesmith
Tom Waltz
Jeremy Whitley
Marcus Williams
Matt D. Wilson
Not enough for you? Good! We have a bunch more amazing guests lined up! We have writers, artists, handcrafters, publishers, and even clubs/organizations – in addition to an amazing array of vendors!
With a Focus on Comic Books, NC Comicon: Oak City keeps ticket prices as affordable as possible so everyone can attend. We are also a bit different as we are locally owned and operated by a comic book retailer, a comic book artist, a comic book writer ,and a comic book fan! This gives us a very unique perspective on how to run a comic book convention.