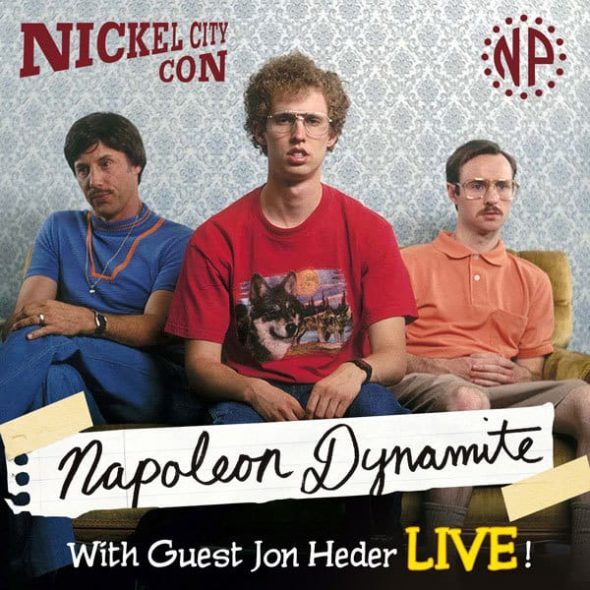 Press Release:
Join Nickel City Con as flippin' Jon Heder himself shows off his skills LIVE after a screening of Napoleon Dynamite  at the North Park Theatre on Thursday, May 17, 2018 at 9:30 PM!
SPECIAL OFFER: The first 100 tickets sold will get a FREE Friday pass to the Con! A $15 value.
About NAPOLEON DYNAMITE:
From the rural town of Preston, Idaho, comes Napoleon Dynamite (Jon Heder). With a red 'fro, his moon boots, and illegal government ninja moves, he is a new kind of hero. His family consists of fragile brother Kip (Aaron Ruell), who's seeking his soul-mate in online chat rooms; Uncle Rico (Jon Gries), who is stuck in his "glory" days of high school football; and Grandma (Sandy Martin), who enjoys going out to the dunes on her quad-runner.
Napoleon spends his days drawing magical beasts, working on his computer hacking skills to impress the chicks, and begrudgingly feeding his Grandma's pet llama. When his friend Pedro (Efren Ramirez) decides to run for class president, it is Napoleon to the rescue to help him triumph over adversity.
About Jon Heder:
Jonathan Joseph "Jon" Heder is an American actor and producer. His feature film debut came as the title character of the comedy film Napoleon Dynamite (2004), which quickly became a cult favorite. He has also acted in the films The Benchwarmers (2006), School for Scoundrels (2006), Blades of Glory (2007), Mama's Boy (2007), When in Rome (2010), and Walt Before Mickey (2015).
Jon has also provided voice talents to such animated films Monster House (2006) and Surf's Up (2007), as well as the Napoleon Dynamite animated series (2012).
North Park Theatre
1428 Hertel Ave, Buffalo, NY 14216
(716) 836-7411