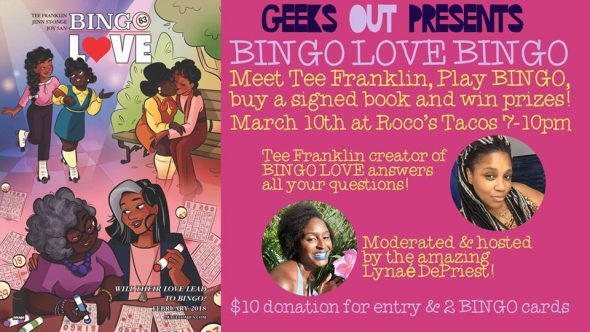 Press Release:
Join  Geeks OUT presents comic creator Tee Franklin at Rocco's Tacos on Saturday, March 10, 2018 at 7:00 PM to celebrate the release of her new book from Image Comics BINGO LOVE. We will be enjoying tacos and cocktails while Tee answers all our BINGO LOVE questions.
Following the Q&A we will be playing BINGO for some great prizes, we have signed copies of Bingo Love, Gift Certificates from local businesses, Comic books and trades and more! Hosted by Lynaé DePriest this is sure to be a fun night.
Tickets are $10 in advance $20 at the door and will get you two bingo cards to play with purchase!
Tickets available on Eventbrite at the link…
About Bingo Love:
When Hazel Johnson and Mari McCray met at church bingo in 1963, it was love at first sight. Forced apart by their families and society, Hazel and Mari both married young men and had families. Decades later, now in their mid-'60s, Hazel and Mari reunite again at a church bingo hall. Realizing their love for each other is still alive, what these grandmothers do next takes absolute strength and courage. From Tee Franklin (Nailbiter's The Outfit, Love is Love) and Jenn St-Onge (Jem & The Misfits), Bingo Love is a touching story of love, family, and resiliency that spans over 60 years.
Rocco's Tacos & Tequila Bar
339 Adams Street, Brooklyn, NY 11201
(718) 246-8226