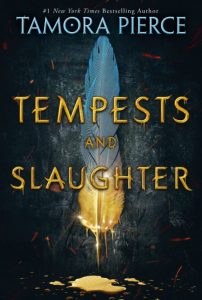 Author Tamora Pierce appears at Changing Hands Bookstore to present and sign new novel Tempests and Slaughter on Tuesday, March 6th at 7:00 PM.
Arram Draper is on the path to becoming one of the realm's most powerful mages. The youngest student in his class at the Imperial University of Carthak, he has a Gift with unlimited potential for greatness–and for attracting trouble. At his side are his two best friends: Varice, a clever girl with an often-overlooked talent, and Ozorne, the "leftover prince" with secret ambitions. Together, these three friends forge a bond that will one day shape kingdoms. And as Ozorne gets closer to the throne and Varice gets closer to Arram's heart, Arram realizes that one day –soon–he will have to decide where his loyalties truly lie.
In the Numair Chronicles, readers will be rewarded with the never-before-told story of how Numair Salmalin came to Tortall. Newcomers will discover an unforgettable fantasy adventure where a kingdom's future rests on the shoulders of a talented young man with a knack for making vicious enemies.
TAMORA PIERCE is the #1 New York Times bestselling author of over eighteen novels set in the fantasy realm of Tortall. She first captured the imagination of readers with her debut novel, Alanna: The First Adventure. Since then, her bestselling and award-winning titles have pushed the boundaries of fantasy and young adult novels to introduce readers to a rich world populated by strong, believable heroines. She has been the guest of honor at numerous conventions, and her books have been translated into many languages and are available on audio. She is the winner of the Romantic Times Book Reviews Career Achievement Award, the Skylark Edward E. Smith Memorial Award for Imaginative Fiction, and the Margaret A. Edwards Award for her "significant and lasting contribution to young adult literature." Pierce lives in Syracuse, New York, with her husband, Tim, and their cats, birds, and occasional rescued wildlife. Visit her at TamoraPierce.com and follow her on Twitter at @TamoraPierce.
Changing Hands Bookstore
300 W Camelback Road, Phoenix, AZ 85013
602.274.0067