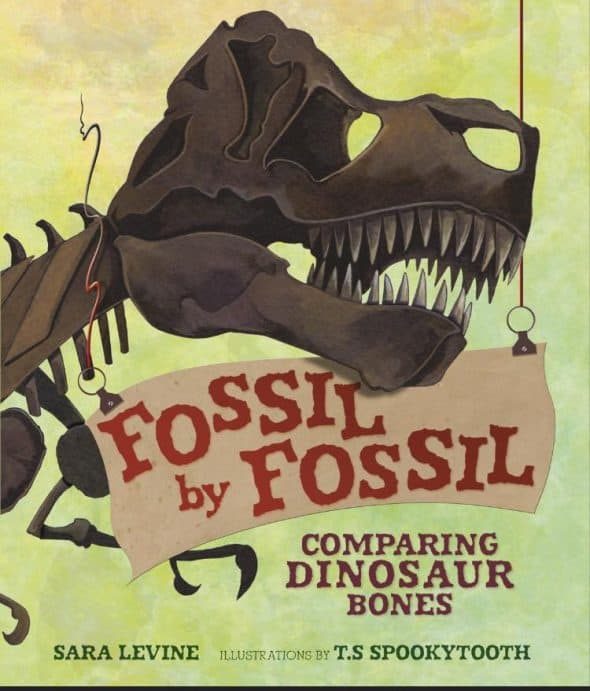 Author Sara Levine signs at Belmont Books on Saturday, February 10, 2018 at 11:00 AM.
Fossil by Fossil: Comparing Dinosaur Bones
How are dinosaur bones similar to human bones? In this workshop, children will learn the bones in the human body and the bones in dinosaurs. They are—remarkably—very much the same, with minor variations. The topic will be taught through a variety of hands-on activities including a Simon Says game with bones, an activity involving putting together a disarticulated skeleton to form a dinosaur, a close look at some real animal fossils, and a reading of Fossil by Fossil: Comparing Dinosaur Bones.
Sara Levine is an assistant professor of biology at Wheelock College and a veterinarian. She holds an MFA in creative nonfiction from Lesley University and has taught writing and literature courses there as well. Her publications include mostly science-related essays for adults, one of which was nominated for a Pushcart Prize in 2007. Her writing has appeared in the Health and Science section of the Boston Globe, The Massachusetts Review, Bayou, and in an anthology titled And Baby Makes More. In addition to teaching college level students, she has also been teaching children's environmental education classes for the Massachusetts Audubon Society and other nature centers in Massachusetts and Connecticut for over 15 years. Bone by Bone: Comparing Animal Skeletons is her first book for children.
Belmont Books
79 Leonard St, Belmont, MA 02478
(617) 932-1496