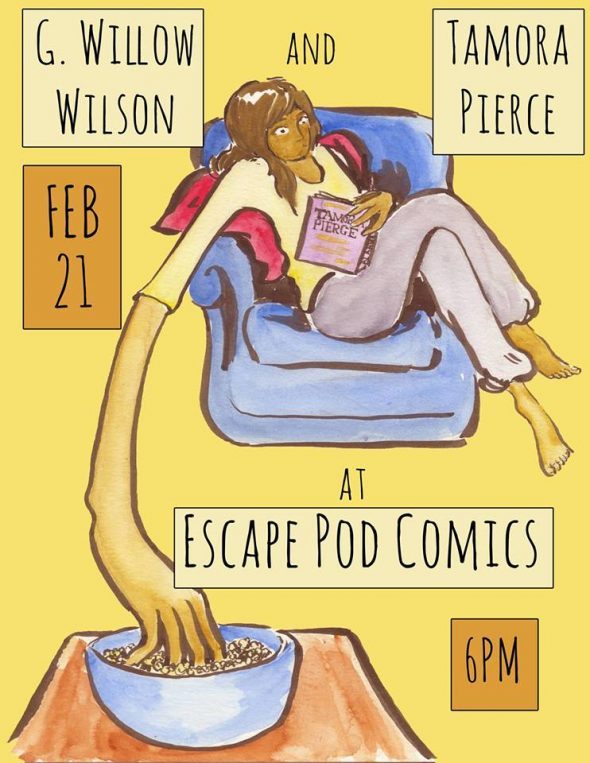 Writers G. Willow Wilson and Tamora Pierce appear at Escape Pod Comics on Wednesday, February 21, 2018 from 6:00 – 9:00 PM following an appearance at the Huntington Public Library.
G. WILLOW WILSON currently writes the Hugo Award-winning comic book series Ms Marvel for Marvel comics. Her debut novel-without-pictures, Alif the Unseen, won the World Fantasy Award for Best Novel and was a finalist for the Center for Fiction's First Novel Prize. In 2010, she wrote a memoir called The Butterfly Mosque about love, Islam and life in Egypt during the waning years of the Mubarak regime. She has written graphic novels and comic book series for DC Comics and its literary imprint, Vertigo, and helped launch the ongoing series A-Force for Marvel Comics. In 2015, she received a special commendation for innovation in graphic literature at the PEN Center USA Literary Awards. Visit her at GWillowWilson.com nd follow her on Twitter at @GWillowWilson.
TAMORA PIERCE is the #1 New York Times bestselling author of over eighteen novels set in the fantasy realm of Tortall. She first captured the imagination of readers with her debut novel, Alanna: The First Adventure. Since then, her bestselling and award-winning titles have pushed the boundaries of fantasy and young adult novels to introduce readers to a rich world populated by strong, believable heroines. She has been the guest of honor at numerous conventions, and her books have been translated into many languages and are available on audio. She is the winner of the Romantic Times Book Reviews Career Achievement Award, the Skylark Edward E. Smith Memorial Award for Imaginative Fiction, and the Margaret A. Edwards Award for her "significant and lasting contribution to young adult literature." Pierce lives in Syracuse, New York, with her husband, Tim, and their cats, birds, and occasional rescued wildlife. Visit her at TamoraPierce.com and follow her on Twitter at @TamoraPierce.
Escape Pod Comics
302 Main Street, Huntington, NY 11743
(631) 923-1044