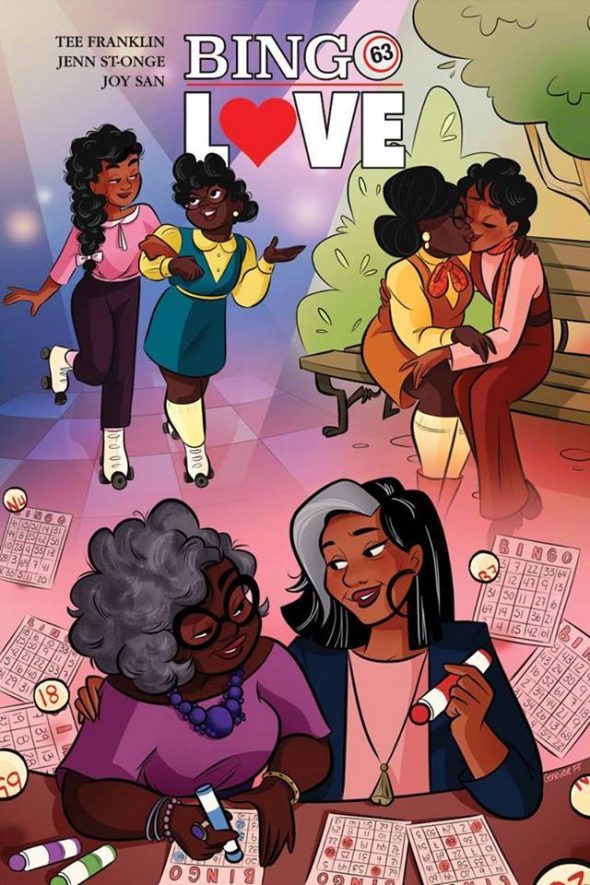 Tee Franklin, the creator and writer of Bingo Love, appears in conversation with Amanda Deibert at Skylight Books on Saturday, February 17, 2018 at 5:30 PM.
About Bingo Love:
When Hazel Johnson and Mari McCray met at church bingo in 1963, it was love at first sight. Forced apart by their families and society, Hazel and Mari both married young men and had families. Decades later, now in their mid-'60s, Hazel and Mari reunite again at a church bingo hall. Realizing their love for each other is still alive, what these grandmothers do next takes absolute strength and courage. From Tee Franklin (Nailbiter's The Outfit, Love is Love) and Jenn St-Onge (Jem & The Misfits), Bingo Love is a touching story of love, family, and resiliency that spans over 60 years.
Tee Franklin is a Queer disabled Black woman who writes comics: The Outfit (Nailbiter #27), A Blazin' (in the Ignatz award winning Elements Anthology), Tears (in the Eisner-winning and New York Times Best Selling Love is Love), and Inclusive Press' Queer romance graphic novella, Bingo Love. Franklin won the 2017 Queer Press Grant for Bingo Love and raised almost $60k for this graphic novella via Kickstarter. She fights for inclusion in comics, no matter the risks, as she hopes that the next generation of marginalized comic creators won't have to put up with what's been happening for the past 75+ years.
Amanda Deibert is an award winning television and comic book writer. Her comic book writing includes Batman and Harley Quinn, Wonder Woman '77, and Sensation Comics Featuring Wonder Woman for DC Comics. The Story "Brave" in the Eisner-winning and New York Times #1 Best Selling anthology Love is Love. As well as stories in the multi-award winning anthology John Carpenter's Tales For a Halloween Night (Amanda wrote stories in volumes 2, 3 and 4) and the Womanthology anthology for IDW.
Television work includes writing for SyFy's Live From Comic Con hosted by Zachary Levi, OWN Tonight for the Oprah Winfrey Network, Take Part Live on PIVOT, The Morning After on HULU, and many more. She is also the writer for former Vice President Al Gore's annual, 24 Hours of Reality an international broadcast to promote awareness and combat climate change, watched on television in over 100 countries, reaching more than 225 million households.
Skylight Books
1818 N. Vermont Ave, Los Angeles, CA 90027
323.660.1175