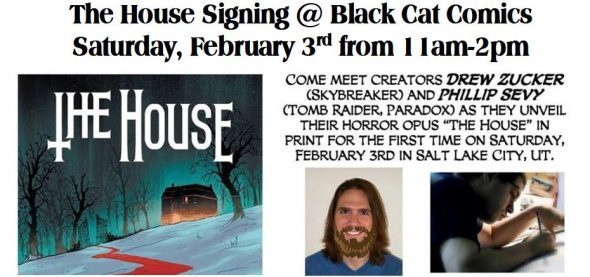 Drew Zucker and Phillip Sevy are kicking off their tour for their new horror comic "The House" this Saturday, February 3rd at Black Cat Comics.
They'll be selling and signing copies of The House here from 11:00 AM – 2:00 PM!
The first twenty customers to purchase The House at each store will get free, exclusive Mini Prints with art from Jorge Corona, Morgan Beem, Dave Stoll: Comic Artist, Roberta Ingranata, and Eryk Donovan Art.
The House is a critically acclaimed 7-issue horror series that follows a squad of US soldiers in the Battle of the Bulge during World War II who get lost in the snowy woods. As the storm becomes worse, they happen upon an abandoned mansion that they take refuge in. But once the door closes, they begin to notice that things aren't right. As night falls, they realize that they may be in more danger if they stay, but when they go to leave, the front door is no longer there. Then things get worse from there…
Created by Drew Zucker and Phillip Sevy (with fantastic colors by Jen Hickman and amazing letters by Frank Cvetkovic), The House is a culmination of seven years worth of work and now, finally, available in a beautiful trade paperback!
Black Cat Comics
2261 S Highland Dr, Ste A, Salt Lake City, UT 84106
(801) 461-4228