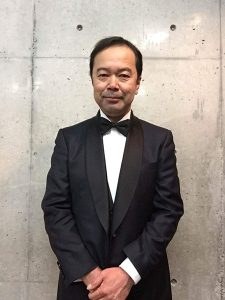 Press Release:
Producer Michihiko Suwa will be appearing at Anime Boston at the Hynes Convention Center, Boston, MA, on March 30 through April 1, 2018.
Yomiuri TV Producer Michihiko Suwa is a fixture of the anime industry and has been for over thirty-five years. Best known to western audiences for his work on Inuyasha, his main project is the mystery series Detective Conan (Case Closed), which is currently in its 23rd season and still going strong. The newest movie, ZERO THE ENFORCER, will be released in Japan on April 13th.
"Producers set the tone and personality of any anime title, and few have a credits list as long as Michihiko Suwa. I can't wait to hear what it takes to take an anime program from conception to our televisions screens!" said Victor Lee, Convention Chairman.
Suwa-san has also planned and produced a number of other series, including Lupin III, Magic Knight Rayearth, Black Jack, Angel Heart, Kekkaishi, (The) File of Young Kindaichi, YAWARA!, and City Hunter. An engaging and knowledgeable speaker, Suwa-san enjoys interacting and engaging with his audience, as well as sharing stories about how the anime we love to watch gets made.
Previously announced guests include FLOW, Asaka, Greg Ayres, Monica Rial, Hideyuki Tomioka, Katsuyuki Sumizawa, and Hirokatsu Kihara.
About Anime Boston: With nearly 26,000 attendees in 2017, Anime Boston is an annual three-day Japanese animation convention held in Boston, Mass. Anime Boston 2018 is scheduled for Friday, March 30 through Sunday, April 1 at the Hynes Convention Center and Sheraton Boston Hotel. More information about Anime Boston can be found at www.animeboston.com.
About New England Anime Society, Inc.: The New England Anime Society was founded in 2001. Based in Massachusetts, The New England Anime Society, Inc. is parent organization of Anime Boston and is dedicated to furthering public education and understanding of the Japanese language and culture through visual and written media. More information about The New England Anime Society is available at www.neanime.org.