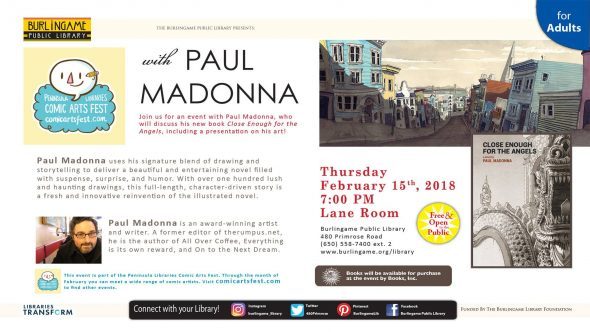 Press Release:
Join the Burlingame Public Library for an event with Paul Madonna, who will discuss his new book Close Enough for the Angels, along with a presentation of images on Thursday, February 15, 2018 at 7:00 PM. Paul Madonna uses his signature blend of drawing and storytelling to deliver a beautiful and entertaining novel filled with suspense, surprise, and humor. With over one hundred lush and haunting drawings, this full-length, character-driven story is a fresh and innovative reinvention of the illustrated novel. Books will be available for purchase from Books Inc. at the event.
Paul Madonna is an award-winning artist and writer. He is the creator of two series, All Over Coffee, and Small Potatoes, and the author of four books, All Over Coffee, Everything is its Own Reward, On to the Next Dream, and Close Enough for the Angels. His drawings and stories have appeared internationally in numerous publications such as the Believer and zyzzyva, as well as in galleries and museums, including the Oakland Museum of California, the San Francisco Contemporary Jewish Museum, and an upcoming solo exhibition at San Francisco's Legion of Honor. His work has been made into murals, printed onto chocolates, dresses, and hats. Paul holds a BFA from Carnegie Mellon University and was the first (ever!) Art Intern at MAD magazine. He is a former editor for therumpus.net, has taught drawing at the University of San Francisco, and frequently lectures on creative practice, even when not asked. Check him out at www.paulmadonna.com
Presented as part of the San Mateo County Libraries' Comic Arts Fest.
Tickets available at the link…
Burlingame Public Library
480 Primrose Rd, Burlingame, CA 94010
(650) 558-7400