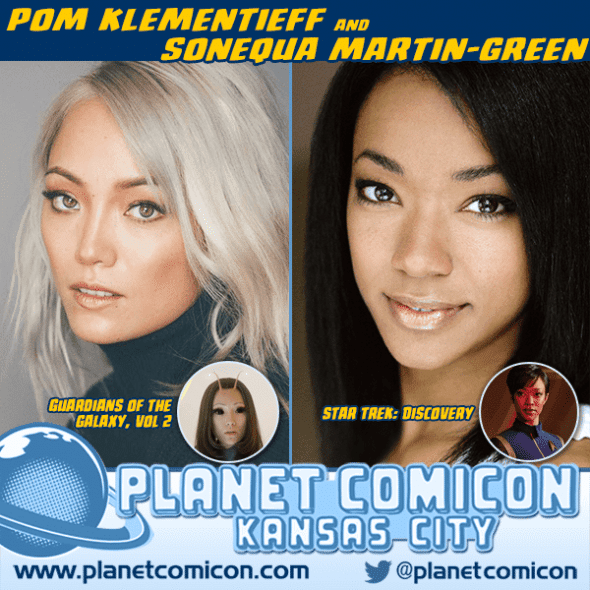 Press Release:
Just when you thought Planet Comicon Kansas City – one of the nation's largest and oldest comic and pop culture conventions – was winding down on the big announcements, we drop a couple more names into the mix. Sure, you might think we'd "say anything" to get a few of you "rogues" to join us at this point (and we have more about those gents below), but right now we're talking about Pom Klementieff and Sonequa Martin-Green!
Pom Klementieff is best known for her role as Mantis in Guardians of the Galaxy Vol 2 and is set to reprise her role in Avengers: Infinity War. She made her Hollywood debut in Spike Lee's Oldboy (2013), a remake of the South Korean film of the same name.
Meanwhile, Sonequa Martin-Green is the breakout star of the brand new CBS series "Star Trek: Discovery" in her portrayal of science specialist Michael Burnham. Prior to this, she was best known for her television role as Sasha Williams in The Walking Dead and Tamara in Once Upon a Time.

John Cusack, one of the most respected and accomplished actors of his generation, joins the guest roster of Planet Comicon Kansas City 2018. His films include such classics as Say Anything, Eight Men Out, 16 Candles, High Fidelity, Better Off Dead, One Crazy Summer, Con Air, Grosse Pointe Blank… and the list goes on!

Perennial fan favorite Alan Tudyk once again joins the guest roster of Planet Comicon Kansas City 2018. His credits include "Firefly," Serenity, "Con Man," Moana, Wreck-It Ralph, Frozen and so much more! In 2016, Tudyk appeared in Rogue One: A Star Wars Story, as the scene-stealing and super snarky security droid, K-2SO.
Want to stay close to the action? We have secured special pricing at select hotels surrounding the Kansas City Convention Center.
Other guests include Jason Momoa (Justice League), Danny Trejo (Machete), Alice Cooper, Amy Jo Johnson (Mighty Morphin Power Rangers), Jerome Flynn (Game of Thrones), Zach Callison (Steven Universe), Matthew Lewis (Harry Potter series) Ryan Hurst (Sons of Anarchy), and more.
For more information about the 2018 show, event photos, interviews and more, "Like" Planet Comicon on Facebook and follow @PlanetComicon on Twitter. Planet Comicon Kansas City is always available online at www.planetcomicon.com.