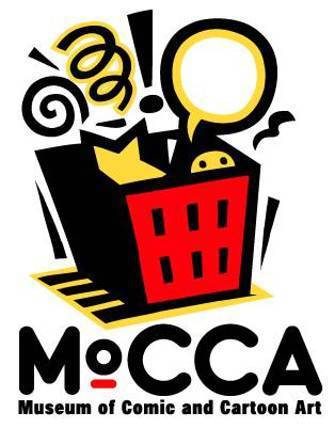 The MoCCA Arts Festival has announced Roz Chast, Liniers, Mike Mignola, Nate Powell, and Andrew Aydin as the Guests of Honor for this year's show on April 7th and 8th, 2018!
Roz Chast:
Roz Chast has created over 800 cartoons for The New Yorker. Her work focuses on urban and domestic life, in her inimitable line. Her cartoons have also been published in other notable publications like Scientific American, the Harvard Business Review, Redbook, and Mother Jones.  Her award-winning titles include her memoirs Going Into Town and Can't We Talk About Something More Pleasant (Bloomsbury); Theories of Everything: Selected, Collected, and Health-Inspected Cartoons of Roz Chast, 1978 – 2006 (Bloomsbury); The Alphabet from A to Y, with Bonus Letter Z (Flying Dolphin Press), with Steve Martin; and many others.
Liniers:
Argentine comic artist Liniers is the creator of over 20 books. His daily comic strip, Macanudo, combines the charm of Calvin and Hobbes with surrealism and lively formal experimentation. Well-known in Latin America, Macanudo has recently been collected in several English-language editions by Enchanted Lion Books. He has recently gained further acclaim with his books for children, Written and Drawn by Henrietta and The Big Wet Balloon, both published by Toon Books in Spanish- and English-language editions.  In 2011 he founded the La Editorial Común, whose focus is to publish works by a diverse body of Argentine authors and artists, as well as foreign creators, with a focus on design. His artwork has also appeared on the cover of The New Yorker magazine.
Mike Mignola:
Mike Mignola is best known for his collection of titles created for Dark Horse Comics, including 13 graphic novels collecting his signature Hellboy series, and spin-off titles B.P.R.D., and Lobster Johnson, Abe Sapien, and Witchfinder. His comic book The Amazing Screw-On Head, also published by Dark Horse, received an Eisner Award for Best Humor Publication in 2003. Mignola has co-authored two projects with best selling author Christopher Golden: Baltimore, or, The Steadfast Tin Soldier and the Vampire (Bantam Spectra) and Joe Golem and the Drowning City (Dark Horse Comics). In addition, Mignola has worked on numerous film and television projects, and is currently co-writing the script for Hellboy: Rise of the Blood Queen, due to be released by Lionsgate in January, 2019.
Nate Powell:
Nate Powell is a New York Times best selling-graphic novelist. He is an alumnus of the School of Visual Arts, having graduated in 2000. His work includes MARCH (Top Shelf), the graphic novel autobiography of Congressman and civil rights icon John Lewis; You Don't Say, Any Empire, Swallow Me Whole (all published by Top Shelf), The Silence Of Our Friends (First Second), The Year Of The Beasts (Roaring Brook Press), and Rick Riordan's The Lost Hero (Disney-Hyperion). Powell is the first and only cartoonist ever to win the National Book Award. Powell's next book, Come Again, will be released in summer 2018 by Top Shelf/IDW.
Andrew Aydin:
Andrew Aydin is the creator and co-author of the graphic memoir series, MARCH, which chronicles the life of Congressman and civil rights icon John Lewis. An Atlanta native, Andrew was raised by a single mother, and grew up reading comic books. After college, he took a job with Congressman Lewis. Today, Aydin serves as Digital Director & Policy Advisor to Congressman Lewis in Washington, D.C. Andrew's other works include the 2016 X-Files Annual (IDW), the 2016 CBLDF Annual Liberty (Image), and an upcoming issue of Bitch Planet(Image), as well as articles for the Atlanta alt-weekly Creative Loafing and the Southern Poverty Law Center's Teaching Tolerance Magazine.
The MoCCA Arts Festival is a 2-day multimedia event, Manhattan's largest independent comics, cartoon and animation festival, drawing over 7,000 attendees each year. With 400 exhibiting artists displaying their work, award-winning honorees speaking about their careers and artistic processes and other featured artists conducting workshops, lectures and film screenings, our Festival mission accelerates the advancement of the Society's broader mission to serve as Manhattan's singular cultural institution promoting all genres of illustration through exhibitions, programs and art education.