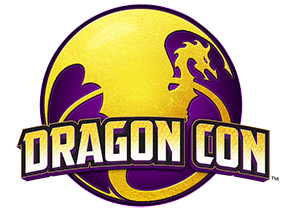 Before I saw Suicide Squad, I knew nothing about Chato Santana, who is the alter ego of El Diablo, the pyrokinetic gangbanger from East LA. After seeing the movie, he quickly became my favorite comic book character and one of my all time favorite characters in any medium. The reason I personally enjoy him is because he's relatable. Everyone has their own regrets and every person wishes they could redeem themselves for something they've done in their past. Deadshot, Captain Boomerang, and Harley Quinn all seem to revel in their villainy, while Chato seems reluctant to even talk about it. He thinks of himself as a monster and attempts to control himself which is a direct contrast to, say, Harley's defense of stealing from a department store: "We're bad guys, it's what we do."
So, I was stoked when I realized that Jai Nitz, the creator of my anti-hero, would be at the very convention I was reporting on. This was my second year at DragonCon, and any of my loyal readers (thanks mom and dad!) would remember that last year I accidentally interviewed Nolan North, the voice of Deadpool and Desmond Miles from Assassin's Creed. This year, however, I got an agreed interview that wasn't illegal! Jai Nitz is what anyone would imagine the creator of a Latino Robin Hood would be… badass, intelligent, willing to sell all his stuff for $100. (These are all jokes, please don't sue me). Reader beware, spoilers and ruined headcanons await!
How did you come up with the idea of Chato?
Chato is not a real name, it actually means butch, thick, beefy. The idea is that he would have had a real name at some point, it would have been Jaime or Guadalupe or something. He was always a big guy, so everyone would call him Chato. That was after my dad. They called my dad butch because there were seven kids in his grade with the same name as him. Everyone was called a nickname instead of just "Jerry." That was kind of a nod to my dad, and the idea of who Chato was came from my cousin, Jaime. He's my age, growing up close to the border in a culture that is 95% Hispanic. Drugs and human trafficking are not a thing on the news, they are a way of life. There are people who are dealing drugs and moving humans. They are not villains, they are Robin Hoods. They are sticking it to the man, instead of doing this nefarious, horrible crime to be on television, that's not who they are. Not that my cousin is doing that, but I saw him in a situation where he was dealing with a lot of different stuff than I did. What would I have been if I had been in the same situation? In East Los Angeles where Chato was from, it is very much the same thing. There are neighborhoods that are closed off to the police because in 1992 only 10% of the Los Angeles police force was Latino. Today it's 60%. Then, no one spoke Spanish. No one knew what to do if you got stuck in a Spanish speaking neighborhood. David Ayer, the director of Suicide Squad, his movie, End of Watch, is about a lot of that. It's a lot about dealing with a culture that is alien to your own, and in the original El Diablo series, he was a gang lord. He was the Robin Hood of his neighborhood. He was the guy you would go to if you had a local problem that the police wouldn't help you with. It was trying to show that just because you commit crimes doesn't make you a bad guy, and just because you do bad stuff doesn't make you a villain, and just because you save people doesn't make you a hero. It was very much blurring the lines and I don't think anybody was ready for that when I wrote it.
I think I fell in love with him when I first saw him.
If you meet Jay [Hernandez, actor for Chato in Suicide Squad] in real life, you will fall in love again because he is stupid good-looking.
How did you get your start in comics?
I got my start by self-publishing right out of college. As a new writer, the best way to make it in comics was to make your own comics. So I wrote my own comics and I found artists to work with. That was on the creative side, then you had to put on your business hat and you had to learn to make the files available to a printer, how to send them to be scanned by a scanning place because you didn't have a scanner big enough, how to get those books printed and distributed, how to take them to conventions and sell them. Then that was my business card. I handed that out and said "please hire me." It's much easier for an editor to read a comic book than it is to read an idea on a piece of paper. Then once they trust you, they will read your ideas, but not until they believe in you as a writer. The best way to make them believe in you as a writer is to show something that you've written. If you want to write a comic book then write a comic book to hand out. So that's what I did and I did it every couple of years until I finally started getting regular work. After about eleven years of trying, self-publishing, doing independant stuff, I got enough work at big publishers to go full-time freelance.
Did El Diablo actually die at the end of the movie?
He can't die. HE CAN'T DIE! His powers dictate that the devil that possesses him. This is explained in the first series, and in the new series it is explained that, every time he dies, the devil just brings him back and takes more of his soul, so he gets more evil each time he dies. I was explaining this to David Ayer at the premiere of the movie. We were walking out of the movie, and he said, "How do we bring him back?" and I said, "You don't have to. He can't die. Every time he dies, the devil takes more of his soul and brings him back, so he comes back more evil, so if people like him in this movie, the next time he comes back, he'll be worse, and the next time he comes back, he'll be even worse. In your movie continuity, he says, 'I was born with the devil's gift,' and the idea is that he was stillborn and the devil took him then, and every time he has died since then, the devil has taken more of his soul as he has brought him back every time.'"
If he drinks alcohol, will he just explode?
Not at all. His powers are magical in nature, which is the other reason you can just bring him back, because there is no science in how he throws fire, just as there is no science in how [Captain Boomerang] throws a boomerang, there is no science in how [Slipknot] uses ropes to climb stuff, there is no science in how [Deadshot] is the best shot in the world. He is made of demonic magical fire.
The reason I ask is because there is a deleted scene in the bar where Harley asks everyone what they want, he says, "Water," and she says, "That's a good idea, honey."
That was definitely a great character moment. That was that character recognizing, "Me losing control is not good for anybody." Because he knows what's inside him, even though no one else does. The other thing is, it's not really in the movie universe, but it would be the kind of thing I would explore. Nobody really believes him. Nobody really believes that there is a devil inside him. There are people who can fly, there are people who dress up like bats, there are people with magic power rings, but nobody believes he is possessed, and then you see it, and it's a different animal.
I like how, in the movie, the other characters are afraid of him.
There's a lot of really good subtle storytelling in the film that gets lost. They had re-shoots, and they had to change this, and they had to move scenes around, and stuff like that, to where there is some stuff that makes no sense. I've seen the movie so many times it isn't funny. But then there is some stuff that is subtle like that, where even Deadshot realizes, this guy could kill us aaaaaaall. And nobody pays attention until it comes to that.
What are you working on next?
I'm working on a book called Suicide Squad Black that has El Diablo as the leader of a Suicide Squad team. It was supposed to come out last month, but it's been delayed, so hopefully it will come out in 2018.
Going into this interview, I was expecting just to talk about comics, not to get a lecture on race relations and the social economics of East Los Angeles. But I'm glad Jai discussed those topics. I admire how he puts his background in his work. It helps him maintain his passion, which was evident when I talked to him.
And I'm definitely buying Suicide Squad Black when it comes out. Who's with me?