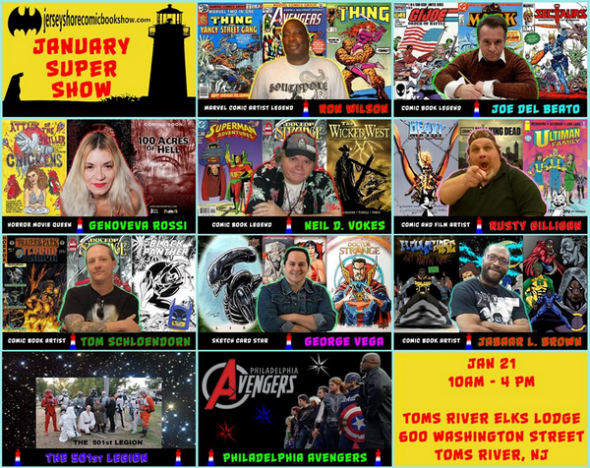 Press Release:
JERSEY SHORE COMIC BOOK SHOW announces the first exciting convention of 2018!
Marvel Comics artist Ron Wilson (The Mighty Thor, the Thing, Marvel Two-In-One), will make his first appearance at the Jersey Shore Comic Book Show on Sunday, January 21, 10am to 4pm. Ron is travelling all the way from Baltimore, Maryland to visit his fans in Toms River, NJ. The show is at the Elks Lodge at 600 Washington Street (corner of Clifton Avenue).
This winter got you down? Got cabin fever? Well then come on out and join us for our first show of the New Year! We'll be hosting a "think paradise" event. We have a great line up of some exciting guests – Rusty Gilligan (Mac and Trouble, Pete's Dragon) Joe Delbeato (G.I. Joe, Sectaurs), Neil Vokes (Superman), Tom Schloendorn, George Vega, Chris Madd, Jabaar L. Brown, 15 year old artist Mackenzie Rose Hawk, writer Eric Cooper (Knight Seeker) and horror film star Genoveva Rossi.
We'll have some great vendors there with comics from the golden age to present, as well as graphic novels, Non-sport cards, toys, posters, DVD's, craft items, anime, records, pop culture, collectibles and so much more!! 70 vendor tables. A few still available.
The 501st Star Wars Legion, Kevin D Cosplay, Lady, DarkKnight of PA Cosplay, Brandon Farver, Carter Cosplay and others will be joining us as well. Always a few surprise celebrity guests. The Philadelphia Avengers will be collecting blankets for the homeless. Anyone donating a blanket will receive $1.00 off admission. Adults $5.00, Senior Citizens $3.00, Kids 12 and under Free.
For more information, see http://www.jerseyshorecomicbookshow.com or call 609-242-7756. The next show in Toms River will be March 18, 2018.