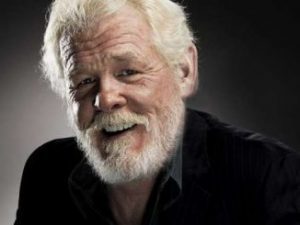 Actor Nick Nolte appears in conversation with Peter Coyote at Book Passage to present his new memoir REBEL on Wednesday, January 24, 2018 at 7:00 PM. Get tickets here…
In Rebel, legendary actor Nick Nolte delivers his most revealing performance yet. This intimate memoir is a tale of art, passion, commitment, addiction, and the quest for personal enlightenment as intense and hypnotic as the man himself.
In a career spanning five decades and hundreds of roles, Nick Nolte has become a true Hollywood icon. Rising from a difficult childhood in the rural Midwest to leading roles and a trio of Oscar nominations in the golden West, he has been both celebrated and vilified; survived marriages, divorces, and a string of romances; was named the "Sexiest Man Alive" by People magazine; and suffered public humiliation over his addiction issues, including a drug-fueled trip down the Pacific Coast Highway that resulted in his infamous arrest.
Despite these ups and downs, Nolte has remained true to the craft he loves, portraying a diverse range of characters with his trademark physicality and indelible gravelly voice. Already thirty-five when his performance in the 1976 mini-series Rich Man, Poor Man launched him to stardom, Nolte never learned to play by Hollywood's rules. A rebel who defies expectations, a committed actor willing to go to extremes for a role, Nolte is motivated by personal, edgy projects, not box office success. Today, he has found peace on his own terms, yet is still driven, juggling projects while raising his young daughter.
Nick's untold story, with never-before-seen photos, offers a candid, unvarnished close-up look at the man, the career, the loves, and the life.
Nick Nolte is an Academy Award-nominated actor who has been active in Hollywood for over forty years. He rose to national prominence with his performance in the 1976 television miniseries Rich Man, Poor Man, and has starred in such notable films as 48 Hrs. (1982), Cape Fear (1991), Affliction (1997), The Thin Red Line (1998), and Warrior (2011), and currently stars in the role of the Epix television series Graves. He lives in Malibu, California.
Book Passage
51 Tamal Vista Blvd. Corte Madera, CA 94925