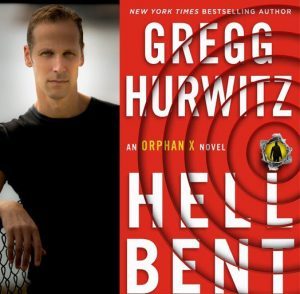 Press Release:
DIESEL, A Bookstore in Brentwood welcomes Gregg Hurwitz to the store to discuss and sign Hellbent: An Orphan X Novel on Tuesday, January 30th at 7:00 PM. This will be his publication party and all are welcome to attend. Please note that this event will take place in the lower outdoor courtyard adjacent to our store.
Evan Smoak–government assassin gone rogue–returns in Hellbent, an engrossing, unputdownable thriller from Gregg Hurwitz, the latest in his #1 international bestselling Orphan X series.
Taken from a group home at age twelve, Evan Smoak was raised and trained as an off-the-books government assassin: Orphan X. After he broke with the Orphan Program, Evan disappeared and reinvented himself as the Nowhere Man, a man spoken about only in whispers and dedicated to helping the truly desperate. This time though, the voice on the other end is Jack Johns, the man who raised and trained him, the only father Evan has ever known. Secret government forces are busy trying to scrub the remaining assets and traces of the Orphan Program and they have finally tracked down Jack. With little time remaining, Jack gives Evan his last assignment: find and protect his last protege and recruit for the program, but Evan isn't the only one after this last Orphan. The new head of the Orphan Program, Van Sciver, is mustering all the assets at his disposal to take out both Evan (Orphan X) and the target he is trying to protect.
Gregg Hurwitz is the New York Times bestselling author of more than fifteen novels, including The Nowhere Man. His novels have been shortlisted for numerous literary awards, graced top ten lists, and have been published in 30 languages. He is also a New York Times bestselling comic book writer, having penned stories for Marvel and DC. Additionally, he's written screenplays for many of the major studios, and written, developed, and produced television for various networks. Gregg resides in Los Angeles.
Diesel Bookstore – Brentwood Country Mart
225 26th Street, Santa Monica, CA 90402
310-576-9960