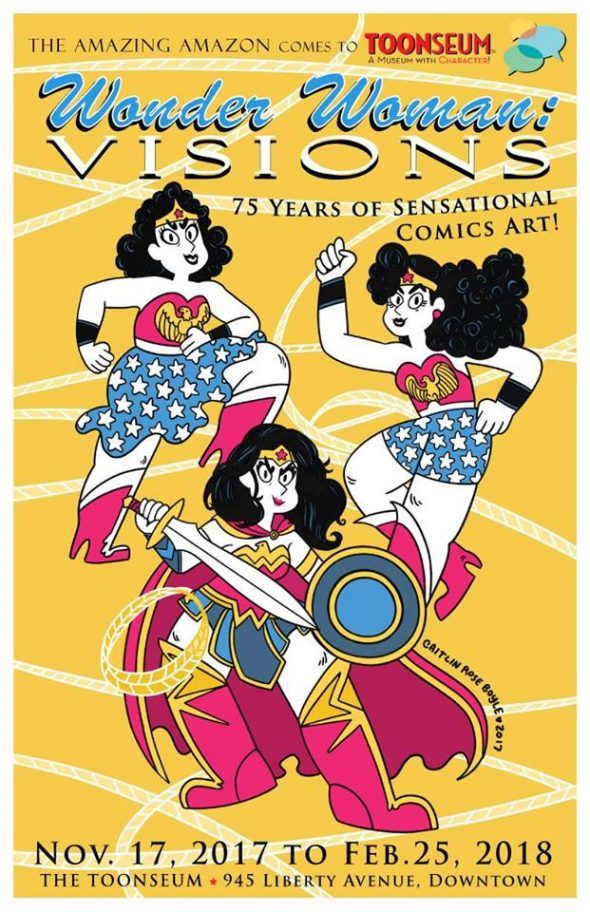 Press Release:
Join the ToonSeum on Friday, December 1st at 7:00 PM as we continue our celebration of Wonder Woman. As part of the exhibit we asked local women cartoonists to contribute art focusing on what Wonder Woman meant to them. Artists featured in this exhibit includes:
Asia Bey
Caitlin Rose Boyle
Jessica Heberle
IIlene Winn Lederer
Cynthia Lee
Rachel Masilamani 
Jenn Meridian
Maggie Negrete
Christina Joy Neumann
Jayla Patton

Lizzie Solomon

This event serves as the official opening party for the Exhibit and serves as a reception and celebration for these artists. Come out, see the show, and meet some of the incredible talent Pittsburgh has to offer.
The ToonSeum showcases a superhero icon with the opening of WONDER WOMAN: VISIONS, a new exhibit celebrating the 75th anniversary of The Amazing Amazon. In regular publication since her debut in All-Star Comics #8 in 1941, Wonder Woman was the first widely-recognizable female comic book superhero. As evidenced by this year's sensational summer blockbuster film, she remains a popular and culturally symbolic figure of female empowerment, and an inspiration for all.
WONDER WOMAN: VISIONS is co-curated by ToonSeum board president Anthony Letizia and regional visual artist Jessica Heberle. The exhibit contains original art from Wonder Woman comic books published over the last 75 years, and new drawings by regional female artists that pay tribute to the character while likewise reflecting on what Wonder Woman means to each of them personally. VISIONS literally illustrates these messages, and explores what they mean to audiences here in Pittsburgh.
Throughout the exhibition, The ToonSeum will feature programming that sheds more light on the character's history and evolution, including presentations, workshops, and tours. Demonstrating that The Spirit of Truth still resonates in the 21st Century, VISIONS is not only designed as a way for Pittsburgh to celebrate the character of Wonder Woman, but presents a "vision" of what she represents to Pittsburghers as well.
This exhibition is suitable for ages 8 and above.
Our galleries at 945 Liberty Avenue are designed for wheelchair access, featuring an accessible, gender neutral restroom, and wheelchair seating. Please contact us with questions related to accessibility at our location.
WONDER WOMAN: VISIONS runs at The ToonSeum from November 17, 2017 to February 25, 2018.
Toonseum
945 Liberty Avenue, Pittsburgh, PA 15222
(412) 232-0199