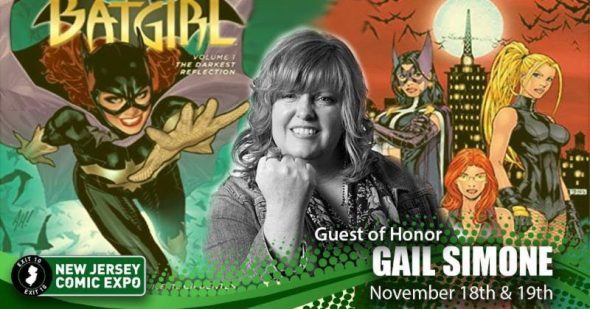 New Jersey Comic Expo 2017 welcomes writer GAIL SIMONE as their guest of honor on November 18-19th!
Gail Simone is a comic book writer best known for penning DC Comics Birds of Prey, her other notable works include Batgirl, Secret Six, Welcome to Tranquility, The All-New Atom, Deadpool, and Wonder Woman. Don't miss your chance to meet her at NJCE!
Other guests include: Garth Ennis, Colleen Doran, Jae Lee, Kevin Maguire, Keith Giffen, Larry Hama, Rags Morales, Jerry Ordway, Ron Marz, Scott Lobdell, Tom Defalco, Jim Calafiore, Sean Chen, Dennis Calero, Amy Chu, Tom Raney, Scott Hanna, and more.
New Jersey Comic Expo is an annual event held at the New Jersey Convention & Exposition Center each Fall. It's a celebration of comic books and pop culture that showcases the exceptional works of talented writers, artists, illustrators and creators of all types of pop culture. Details at the website: newjerseycomicexpo.com