Press Release: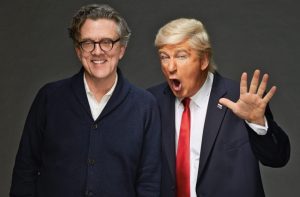 The Long Center in partnership with Alamo Drafthouse presents Alec Baldwin & Kurt Andersen in Conversation with Evan Smith on the release of their new book You Can't Spell America Without Me on Wednesday, November 15th at 7:30 PM in Dell Hall.
This event is going to be big. Huge, you might say.
Channeling the spirit of deeper truth, America's presidential-impersonator-in-chief, Alec Baldwin (as himself), and America's foremost Trump scholar, Kurt Andersen, have teamed up to bring you a night of hilarious and thoughtful conversation. You won't want to miss this intimate, first-hand account of all the magic and "fact-checking" that went into their new book, You Can't Spell America Without Me—the story of everything that goes on behind the scenes of making America great again. More powerful than an early morning Tweet storm, it may just be "the truest book ever written." For one night only, Alec and Kurt will take to the Long Center stage to further illuminate its pages of 1000% truth with newly created videos and a very serious, deeply thoughtful live conversation moderated by the Texas Tribune's own Evan Smith.
VIP Tickets are available for this event and include one Premium Reserved Seat and access to a Pre-Show Book Signing.
Every ticket includes a copy of You Can't Spell America Without Me.
*Alec Baldwin will not be in character for this event.
About You Can't Spell America Without Me
Until Donald Trump publishes the ultimate account of his entire four or eight or one-and-a-half years in the White House, the definitive chronicle will be You Can't Spell America Without Me: The Really Tremendous Inside Story of My Fantastic First Year As President (A So Called Parody). Trump was elected because he was the most frank presidential candidate in history, a man eager to tell the unvarnished truth about others' flaws and tout his own amazing excellence. Now he levels his refreshingly compulsive, un-PC candor at his landslide election victory as well as his role as commander-in-chief and leader of the free world. You Can't Spell America Without Me is co-authored by America's foremost Trump scholar Kurt Andersen as well as America's foremost mediocre Trump impersonator, Alec Baldwin.
Details and tickets are available at the link…
The Long Center
701 W Riverside Drive, Austin, TX 78704
(512) 474-5664