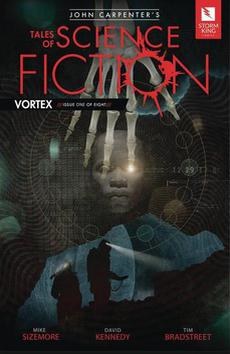 Mike Sizemore and David Kennedy signing John Carpenter's Tales of Science Fiction: Vortex #1 at the Forbidden Planet Megastore on Wednesday 8th November from 6:00 – 7:00 PM!
The second story of John Carpenter's monthly anthology series Tales of Science Fiction.
With all communication lost from a mining asteroid, space station Benson dispatches a rescue ship to investigate. What the team discovers threatens not only to overwhelm and destroy them, but could ultimately threaten all life on Earth.
Writer Mike Sizemore was described by Warren Ellis as "Nine kinds of wrong." His three-minute short SLINGERS has been called "the best TV show never made". He adapted HOWL'S MOVING CASTLE for the stage and created the web series CAPER starring James Callis and Scott Bakula. He recently helped create a human being too.
Dave Kennedy is an artist originating from a dark corner of the North of England. He devotes his time here on Earth to drawing things that hopefully entertain others. He currently lives in the town of Wigan with his wife Tomomi, son Ren, and a worrying amount of toy robots.
Forbidden Planet London Megastore
179 Shaftesbury Avenue, London, WC2H 8JR
0207 420 3666