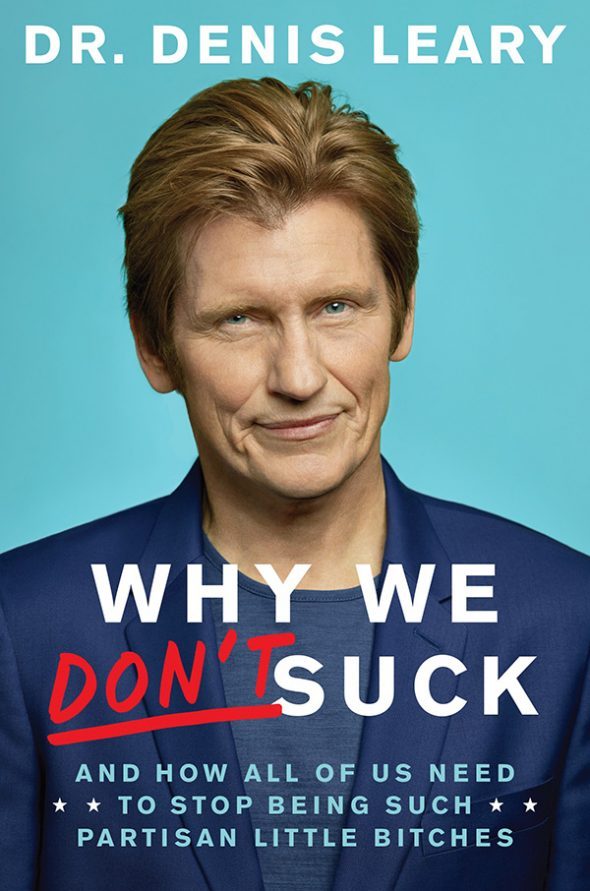 Denis Leary appears in conversation with Michael Ian Black at the College Street Music Hall to present his new book Why We Don't Suck on Monday, November 13, 2017 at 7:00 PM. Tickets available at the link…
From the author of the bestselling Why We Suck comes a searing comic look at these divisive times, skewering liberals and conservatives alike with a signature dose of sarcasm and common sense.
In an America so gluten-free that a box of jelly donuts is now a bigger threat than Vladimir Putin, where college kids are more afraid of Ann Coulter than HIV, it's time for someone to stand up and make us all smell the covfefe. Dr. Denis Leary is that guy.
With WHY WE DON'T SUCK, Denis is on a devoted mission to #MakeAmericaLaughAgain. Using the clamorous political atmosphere as a starting point, he's taking a bipartisan look at the topics we all hold so dear to our patriotic hearts—including family, freedom, and the seemingly endless search for fame and diet vodka. Denis will answer important questions like: When will Hillary blame herself? Why does Beyoncé think he's Bryan Adams? And why doesn't Denis follow the millennial lead and post pictures of his food on social media? (Spoiler alert: He's too busy actually eating it.) Not that he has anything against millennials: "When it comes to science, math, and technological advances, this generation has done more in three and a half decades than any other age group in history. What did my generation do? Cocaine and Quaaludes mostly. With a side order of really stupid haircuts." Dr. Leary is here to remind us of what truly makes America great, even though we're #7 on the most recent list of Best Countries To Live In. Which may sound bad but means we still make the playoffs.
Denis Leary is a five-time loser at the Emmy Awards. And the Golden Globes. He hopes to one day also lose an Oscar, a Grammy, and a Tony. His first literary foray Why We Suck: A Feel Good Guide to Staying Fat, Loud, Lazy and Stupid was a New York Times bestseller but not nominated for the National Book Award. In his long and storied entertainment career, Leary has also never won The Stanley Cup, The Nobel Peace Prize, or an argument with his wife. He looks forward to playing Kellyanne Conway in the President Trump biopic.
Michael Ian Black is a writer, comedian, and actor who currently appears on Another Period, The Jim Gaffigan Show, and Wet Hot American Summer: First Day of Camp. He created and starred in many television series, including Michael and Michael Have Issues, Stella, and The State. He wrote the screenplay for the film Run, Fatboy, Run and wrote and directed the film Wedding Daze. Michael regularly tours the country as a stand-up comedian and is the bestselling author of the book My Custom Van (and 50 Other Mind-Blowing Essays That Will Blow Your Mind All Over Your Face), the memoir You're Not Doing It Right, and the children's books Chicken Cheeks, The Purple Kangaroo, A Pig Parade Is a Terrible Idea, I'm Bored, Naked!, and Cock-a-Doodle-Doo-Bop. Michael lives in Connecticut with his wife and two children.
College Street Music Hall
238 College St, New Haven, CT 06510
(203) 867-2000