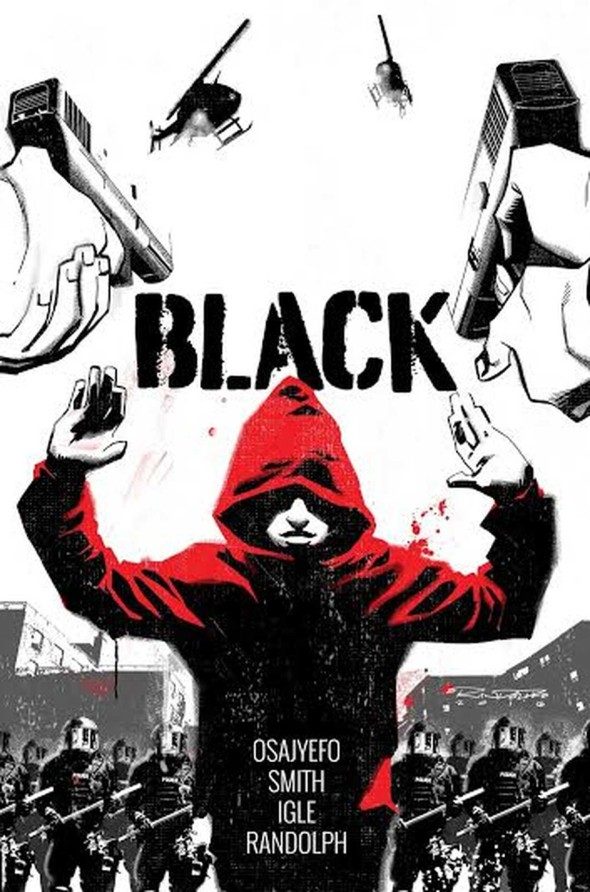 Kwanza​ ​Osajyefo, Tim Smith 3, Jamal​ ​Igle, and Khary Randolph appear at Amalgam Comics on Saturday, November 4, 2017 at 1:00 PM to present and sign the series BLACK.
Kwanza​ ​Osajyefo: Co-creator and the writer of BLACK – a comic that explores the question: what if only black people had superpowers? Kwanza's career in sequential-art storytelling spans over a decade, including working as online editor at both Marvel and DC Comics. He began his career as an intern at Marvel Comics and worked his way up to digital editor. After leaving comics for a time, Kwanza returned to launch DC Comics' first webcomics imprint, Zuda, and created the blueprints for the digital comics initiative. Kwanza prefers to write stories that draw from our human condition, centered around characters with various perspectives and backgrounds.
TIM SMITH 3 (A.K.A TS3): Designer and co-creator on Black. Tim has been working in the comic industry for over 15 years. Doing illustration work for Marvel, DC Comics, Archie, and many others to name a few.
Jamal​ ​Igle: Recipient of the 2011 Inkpot Award for Outstanding Achievement in Comic Art, Jamal Igle is the writer/artist/Creator of Molly Danger for Action Lab Entertainment. He's penciled everything from indie faves to Marvel and DC hits.
Khary Randolph: He attended School of Visual Arts and graduated in 2000 with a BFA in Cartooning and Illustration. Since then, Khary has worked in the animation, advertising, and the comic book industry on properties such as Mosaic, Spider-Man, X-Men, Hellboy, Teenage Mutant Ninja Turtles, The Boondocks, Teen Titans, and Robin War. He is currently working on an unannounced project for Skybound.
Amalgam Comics & Coffeehouse, Inc.
2578 Frankford Ave, Philadelphia, PA 19125
(215) 427-3300