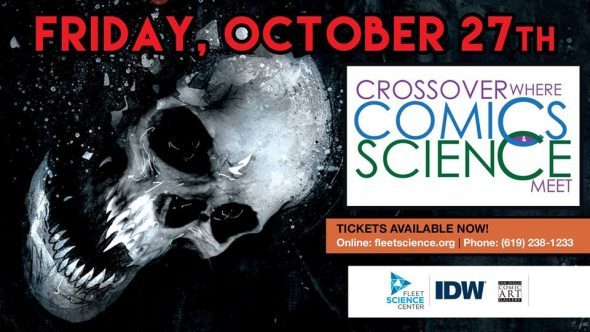 Join IDW Publishing and the Fleet Science Center for an event that will look at the art, science and technology featured in some of our favorite comics.This month we explore Infectious Diseases with Steve Niles, creator and writer of 30 Days of Night on Friday, October 27th at 6:30 PM.
Featuring:
– Steve Niles, creator and writer of 30 Days of Night
– Jonathan Maberry, New York Times Bestselling Author and Creator of @V-Wars
– Dr. Joy Phillips, Research Associate Professor of Immunology, The – Donald P. Shiley BioScience Center, SDSU
– Nina Gao, Ph.D. Student, Microbiology, UCSD
Cost: $15 per event. Tickets include two beers from a local brewery and one comic book from IDW. NOTE: 21+ ONLY! IDs will be checked at the door.
About Crossover:
Comic book artists, writers and local scientists will give short talks, followed by open discussion, addressing the creative and scientific sides of comics. Enjoy local brews and stimulating discussion with comic book creators and fans! Events will be held at the San Diego Comic Art Gallery in Liberty Station.
San Diego Comic Art Gallery – Barracks 3 First Floor
2765 Truxtun Road, San Diego, CA 92106
(858) 270-1315