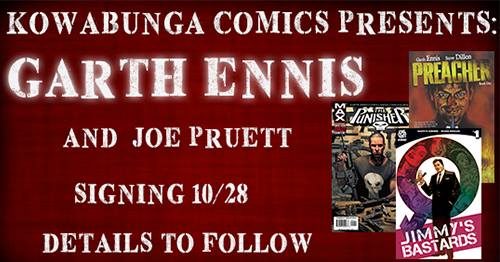 Writer Garth Ennis (Jimmy's Bastards, Preacher, Punisher MAX, The Boys, War Stories) will be signing at Kowabunga Comics on Saturday, October 28th! In addition to Garth will be Black Eyed Kids creator and Aftershock Comics Chief Creative Officer Joe Pruett and writer/artist Phil Hester.
Garth Ennis is a multi-award winning comic book writer  known for his love of graphic violence and black comedy. After taking over the reins of Judge Dredd, British Comics' most recognizable character, from legendary Judge Dredd creator John Wagner, he exploded upon the American comic book market with credits that include Hellblazer, Hitman, Punisher, Fury, Crossed, Battlefields, War Stories, and The Boys. His legendary and hugely-influential DC Comics' series PREACHER, which he co-created with artist Steve Dillon, has recently been given a pilot treatment by AMC. Originally from Belfast, Northern Ireland, he now lives in New York City with his wife, Ruth.
Joe Pruett is the COO and Publisher at Aftershock. Joe is an Eisner and Harvey nominated writer and editor for his work on Negative Burn. He is known for his turn at Marvel on X-Men Unlimited, Wolverine, and Cable. Currently, Joe writes Black Eyed Kids at Aftershock.
Phillip Hester has been writing and drawing comics for nearly three decades, beginning while still a student at the University of Iowa. After a period of toiling in the burgeoning world of black and white indie comics, he broke into the mainstream with a long run as artist of DC's Swamp Thing with writer Mark Millar. At nearly the same time, he wrote and drew the Eisner Award nominated series The Wretch. In 2001, Phil drew Kevin Smith's revival of DC's Green Arrow. He wrote the original graphic novel The Coffin with artist Mike Huddleston, which was optioned for a feature film by James Cameron. At Image Comics, he created Firebreather with artist Andy Kuhn, which became an Emmy-winning television feature for Cartoon Network. His work, as both artist and writer, has been featured in hundreds of comics from nearly every major American publisher, and includes runs on such titles as The Darkness, Wonder Woman, Ant-Man, Ultimate Marvel Team-Up, Nightwing, Invincible Universe, Batman Beyond, The Flash: Season Zero, and his current Image project Mythic with artist John McCrea. Phil lives in rural Iowa with his family.
Kowabunga Comics
102 N Main St, Oconomowoc, WI 53066
(262) 569-9999