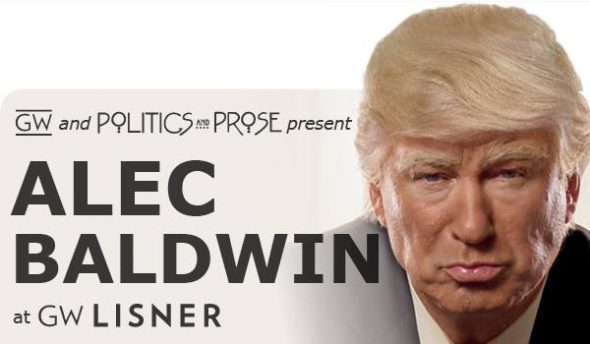 Alec Baldwin appears in conversation with author Kurt Andersen on Tuesday, November 14th at 7:00 PM to present You Can't Spell America Without Me. Presented by GWU and Politics and Prose. Tickets available at the link…
Working the special magic of political satire, this memoir unfolds in a time when the Trump presidency is history. America's foremost Trump scholar and its foremost Trump impersonator, Kurt Andersen and Alec Baldwin, join forces to channel Trump's reminisces on how he made America great again. Building on Baldwin's wildly popular Trump impressions on Saturday Night Live, the novelist and actor together present the future former chief executive's thoughts on White House protocol, world leaders, his family, the media, and much more.
Alec Baldwin and Kurt Andersen will sign a limited number of copies of You Can't Spell America Without Me before the event begins.

When Will Call opens, a limited number of ticket holders will receive the opportunity to enter the signing line. Access to the signing line is first come, first served. We may be able to offer standby access to the signing as well, but entry is not guaranteed.

There will be no signing after the program, and signed books will not be available for pre-order.

All books and tickets will be available at will call at 6 p.m. the evening of the event.

Politics and Prose will not have books or tickets available for pick up prior to the evening of the event.
GW Lisner Auditorium
730 21st Street NW, Washington, DC 20052
(202) 994-6800