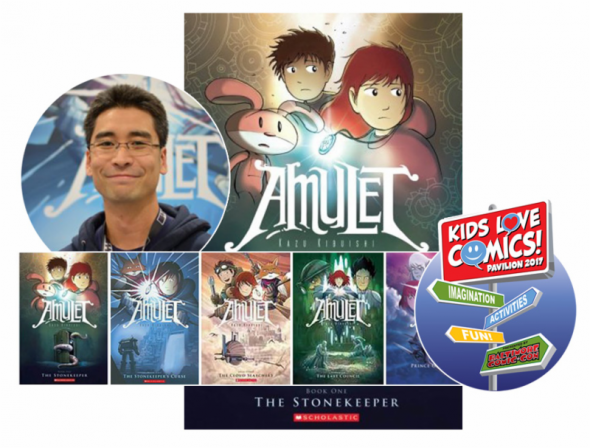 Press Release:
Kazu Kibuishi, creator of the Amulet graphic novel series and the cover artist for the anniversary edition of Harry Potter, comes to Baltimore Comic-Con as part of Kids Love Comics.
New York Times bestseller Kazu Kibuishi's magical graphic novels have taken the book world by storm, and now that magic is coming to the Baltimore Comic-Con September 22-24! Mr. Kibuishi will be on hand all weekend (Booth #3013 in the Kids Love Comics Area) to meet his fans, sign his books, and share his process in creating graphic novels. Copies of Mr. Kibuishi's books will be available for purchase if anyone forgets to bring a copy to have signed!
Ask any class of kids across America about the graphic novel series Amulet, and you will probably hear an excited description of adventure, kid heroes, and amazing creatures, all said with a big smile. Featuring magic, elves, robots, demons, and anthropomorphic animals, Amulet has become a bright light for reluctant readers and excited book lovers alike.
Kibuishi will be giving FREE talks on his process of creating comics on Saturday at the Baltimore Comic-Con, as part of the perennial convention's Kids Love Comics educational and entertainment initiative.
"Baltimore Comic-Con is not only a wonderful comic convention," said John Gallagher, Kids Love Comics Executive Director, "it's an incredible, family-friendly event. Kazu's inclusion at the show is a natural progression of BCC's dedication to inspiring young people to read and enjoy the magic of comics."
Mr. Kibuishi's programming (just a part of the weekend-long kids programming and classes) at the show is as follows:
SATURDAY
Kids Love Comics Area
1:00 – 2:00 – Panel Party with Mark Mariano and Kazu Kibuishi
You are cordially invited you to the Panel Party, where your imagination, storytelling ability, and art skills will be welcomed and celebrated. Simply put, we are going to have a blast making comics together! Warning: attending this party may result in you throwing your own Panel Party at home!
Room 345-346
2:45 – 3:45 – Amulet Graphic Novel: Behind-the-Scenes
Presentation and Q&A with author Kazu Kibuishi on the creation of the Amulet graphic novel series for Scholastic Graphix. Explore the process of creating adventures for all ages!
SUNDAY
Room 347-348
11:00 – 12:00 – Writing for Young Readers
How is writing for young readers unique? What are the rewards and challenges? Are any themes off limits? Join Kazu Kibuishi, Barry Lyga, Andy Runton, Hope Larson, Louise Simonson, and moderator Charlie Kochman as they explore writing for young readers.
Limited copies of Kazu Kibuishi's books will be on hand for purchase, courtesy of Captain Bluehen Comics, Newark, DE and Kids Love Comics
The Baltimore Comic-Con returns to the Inner Harbor's Baltimore Convention Center on September 22-24, 2017. In the coming weeks, look for more announcements from the Baltimore Comic-Con. We are looking forward to highlighting our guests, industry exclusives, and programming. The latest developments can always be found on our website, Twitter, Instagram, and Facebook pages.