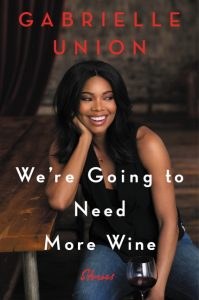 Actress Gabrielle Union appears in conversation with WNYC's incomparable 2 Dope Queens, Phoebe Robinson and Jessica Williams at the Gramercy Theatre on Tuesday, October 17th at 7:00 PM. Tickets available at the link…
Press Release:
For years Hollywood had been yearning for an insightful and strong female actor to stand up for the throngs of women harassed and abused in the world of showbiz; Gabrielle Union answered the call and has since become the voice of the victims of sexual violence. Now she's here with a collection of powerful essays on gender, sexuality, race, beauty, film, and what it means to be a modern woman.
In this series Gabrielle has shared not only wonderful think-pieces, but also deeply personal tales from her life. She covers everything from the unfair beauty standards foisted upon women to how she coped with her parent's divorce. Intimate and honest, she is a reminder to the world that community and ethics are the keys to a better world.
Gabrielle Union is an actress remembered for her breakthrough role in the film Bring It On. Union has starred in such films as The Brothers, The Birth of a Nation, Daddy's Little Girls, Think Like a Man, and Sleepless. Union also stars in the BET drama series Being Mary Jane, for which she has received critical acclaim and an NAACP Image Award.

Phoebe Robinson is a stand-up comedian, writer, and actress whom Vulture.com, Essence, and Esquire have named one of the top comedians to watch. Recently, she created and starred in Refinery29's web series Woke Bae and, alongside Jessica Williams of The Daily Show, she is the creator and costar of the hit WNYC podcast 2 Dope Queens as well as the creator and host of the new WNYC podcast Sooo Many White Guys. You can read her weekly musings about race, gender, and pop culture on her blog, Blaria.com (aka Black Daria). Visit Phoebe's website at www.phoeberobinson.com

Jessica Williams is a talented comedian, writer and performer who has garnered the attention of television audiences with her influential voice, perspective, and wit around pop culture conversations in media. Williams can currently be seen in The Incredible Jessica James, opposite Chris O'Dowd. In April 2016, Williams launched a podcast, 2 Dope Queens, with her best friend and fellow comedian Phoebe Robinson. In 2012 Williams joined the cast of Comedy Central's The Daily Show as the first African American woman and youngest correspondent to date. Williams led numerous comedic yet thought-provoking segments on hot button topics such as police brutality, transgender rights, sexism in politics and race. Williams' other television credits include HBO's hit series Girls, where she starred as 'Karen,' Hannah Horvath's work friend in season three.
The Gramercy Theatre
127 E 23rd St, New York, New York 10010
(212) 614-6932