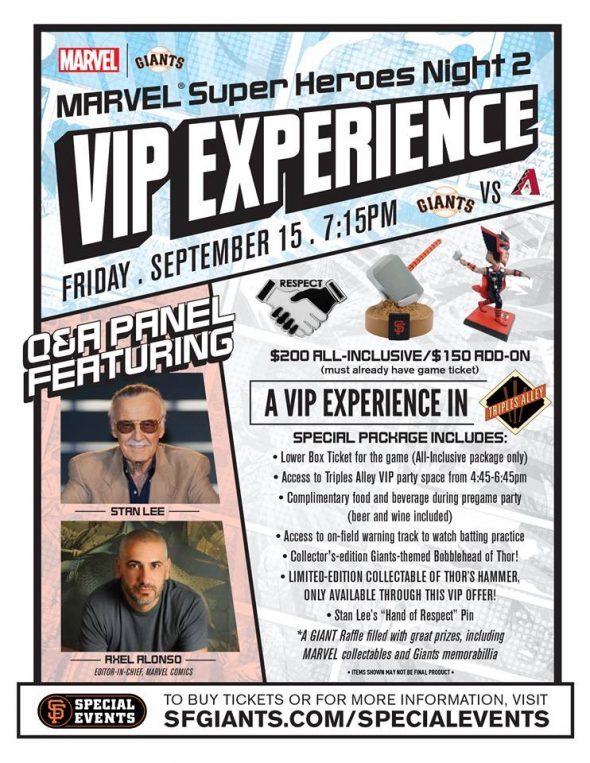 Comics legend Stan Lee and Editor-in-Chief of Marvel Comics Axel Alonso appear at AT&T Park on Friday, September 15, 2017 for the second annual MARVEL SUPER HEROES NIGHT! Tickets available at the link…
Press Release: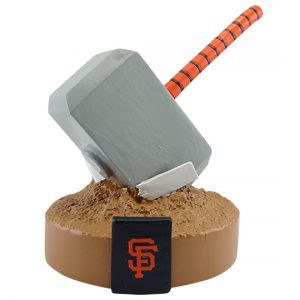 The Giants are proud to invite all Giants and MARVEL fans to AT&T Park to celebrate the upcoming release of the highly anticipated film, Thor: Ragnarok, the third film in the Thor series. Your Special Event ticket package includes a ticket to the Friday evening game versus the Diamondbacks, as well as a collector's-edition Giants-themed bobblehead of Thor, only available with the purchase of this Special Event ticket. We encourage all fans to dress up as their favorite MARVEL character and enjoy a day centered around Stan Lee's Marvel empire
Each VIP-ticket holder will receive admission to Triples Alley from 4:45 – 6:45 PM, access to the Q&A panel featuring Stan Lee AND Editor-in-Chief of Marvel Comics, Axel Alonso, complimentary food and beverage (including beer and wine), a collector's-edition Giants-themed bobblehead of Thor, as limited-edition collectable of Thor's Hammer, only available to ticketholders of this VIP offer!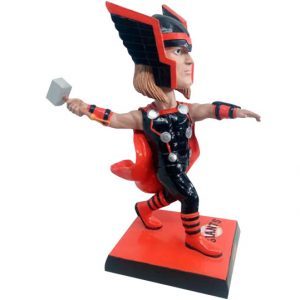 Unlike any other ballpark setting, this on-field space is the perfect place to enjoy all of the pre-game excitement at the ballpark. Triples Alley, the Giants newest premium location, has it all, including on-field access from which to watch batting practice, early access to the ballpark, and at the conclusion of the pre-game event, a walk along the warning track on the field to get to your seats for the game.
AT&T Park
24 Willie Mays Plz, San Francisco, CA 94107
(415) 972-2000