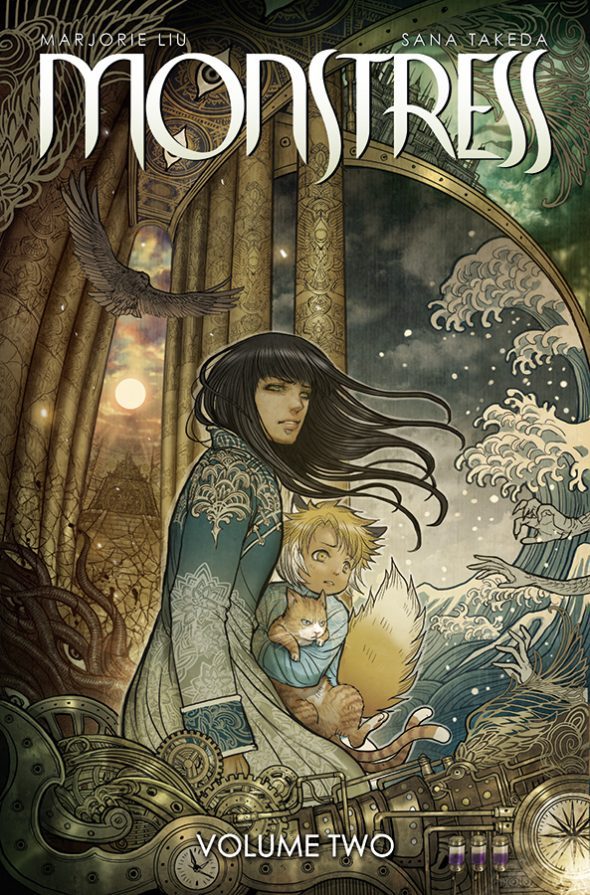 Author (and MIT Lecturer) Marjorie Liu (Han Solo, Astonishing X-Men) appears at MIT Coop on Thursday, September 14, 2017 at 7:00 PM to present Monstress Volume 2: The Blood, the second installment in her Eisner-nominated comic series set in an alternate matriarchal 1900s Asia. Register at the link…
In the aftermath of their battle against both the Cumaean Mother Superior and the Arcanic Dusk Court, Maika, Kippa, and Ren fled to the seaside nation of Thyria. There, Maika finds a clue to help her unlock the secrets of her mother's life and obsession with the legendary Shaman-Empress: a key made of the bone of an unknown creature. Along with a crew of Arcanic pirates-turned-smugglers, Maika sets sail towards the Isle of Bones in search of answers to her past and the Monstrum that lies underneath her skin. She and her companions brave many dangers, including ghost-haunted waters and a powerful Ancient, and uncover terrible truths that threaten their survival. Collects Monstress Issues #7-12.
About The Author: New York Times bestselling and award-winning writer Marjorie Liu is best known for her fiction and comic books. She teaches comic book writing at MIT, and she leads a class on Popular Fiction at the Voices of Our Nation (VONA) workshop.
Ms. Liu is a highly celebrated comic book writer. Her extensive work with Marvel includes the bestselling Dark Wolverine series, NYX: No Way Home, X-23, and Black Widow: The Name of the Rose. She received national media attention for Astonishing X-Men, which featured the gay wedding of X-Man Northstar and was subsequently nominated for a GLAAD Media Award for outstanding media images of the lesbian, gay, bisexual and transgender community. Ms. Liu also wrote the story for the animated film, Avengers Confidential: Black Widow and Punisher, which was produced by Marvel, Sony Pictures Entertainment (Japan) Inc., and Madhouse Inc.
MIT Coop at Kendall Square Bookstore
325 Main Street, Cambridge, MA 02142