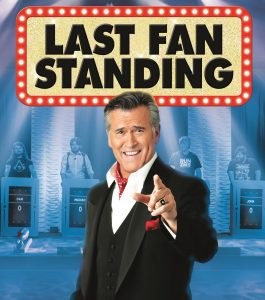 Actor, author and producer Bruce Campbell (Ash vs Evil Dead) appears at the Alamo Drafthouse Cinema on Wednesday, September 13, 2017 at 6:00 PM! Tickets are available here…
Press Release:
We're teaming up with Book People to celebrate our five-year anniversary with Bruce Campbell!
Each ticket includes a meet and greet with Bruce and a copy of his new book Hail to the Chin: Further Confessions of a B Movie Actor.
Last Fan Standing is the first LIVE Trivia Game Show celebrating Fandom & Pop-Culture, and here are just a few of the reasons you won't want to miss it:
The Only Live Game Show Created Exclusively For Fans
Born from the world of Comic-Con, Last Fan Standing is an interactive trivia quest built from four primary pillars of content, that include:
• Fantasy
• Horror
• Sci-Fi
• Superheroes

Not your average quiz show or trivia contest, Last Fan Standing tests your knowledge about the things that really matter. Brought to life through a dynamic and entertaining live event, Last Fan Standing is the ultimate test of pop culture and fandom.

Bruce Campbell: The Grooviest Of Hosts

Bruce Campbell: Your Hero, our host. Well, he's our hero too!

From his turn as Ash in the classic 80's Evil Dead horror movie series, to his seven-seasons on Burn Notice, to the reprisal of his iconic character in Starz' Ash vs. Evil Dead, Bruce Campbell has long been a fanboy favorite—and part of the braintrust behind Last Fan Standing. And it's easy to see why: his sharp, self-deprecating wit has made his Comic Con panels top draws for years. In fact, Bruce's 2015 Comic Con appearance in San Diego was outdrawn only by the panel for Star Wars: The Force Awakens.

It's A Game Show Experience Everyone Gets To Play

Last Fan Standing gives the entire audience the chance to play along and qualify to be on stage—and attempt to be The Last Fan Standing. Through provided "audience response devices" (Clickers if you insist on getting technical), each audience member participates in a series of multiple choice questions, where the players with the fastest-correct answers advance to the Podium Rounds. The Podium Rounds bring the top four (4) players from the audience to a winner-take-all battle of Sci-Fi, Fantasy, Superheroes, and Horror based trivia. After each round the player with the lowest score is eliminated, until there is only one….Last Fan Standing!
Alamo Drafthouse Ritz
320 E 6th Street, Austin, TX 78701
(512) 861-7020