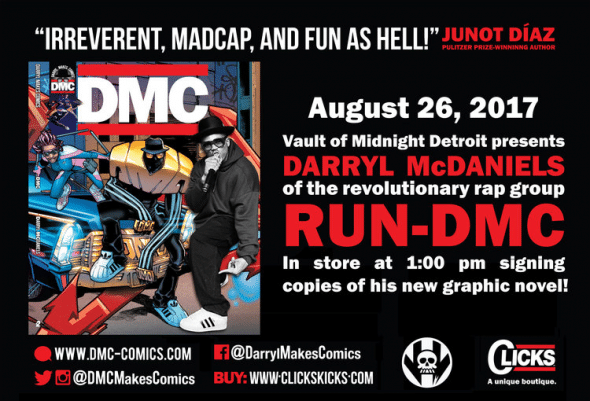 Press Release:
Vault of Midnight Detroit is more than excited to host multi-platinum recording artist, hip hop pioneer, and founding member of Run-DMC, Darryl McDaniels! Saturday August 26th, Darryl McDaniels will be in-store at Vault of Midnight Detroit from 1:00 pm to 3:00 pm signing copies of his critically praised graphic novel "DMC", which features art and writing from legendary creators such as Sal Buscema, Bill Sienkiewicz, David Walker, Greg Pak, and more.
And man, that is not all. McDaniels himself will be judging a break dancing competition at the shop, the winner of which will receive two tickets to see Run DMC perform live at Chene Park on August 27th!
This is an opportunity you will not want to miss. Show up early and don't miss this chance to meet genuine hip-hop royalty at Vault of Midnight!
Vault of Midnight
1226 Library Street, Detroit, MI 48226
(313) 481-2165