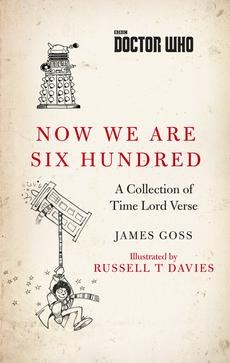 James Goss signs Now We Are 600 at the Forbidden Planet London Megastore on Saturday 2nd September from 3:00 – 4:00 PM.
PART OF OUR DOCTOR WHO DAY CELEBRATIONS!
NOW WE ARE SIX HUNDRED is a gentle collection of charming, funny and whimsical poems that celebrate the joys, sorrows and wonders of Time Lord life. Written by James Goss, it features illustrations by former Doctor Who Executive Producer Russell T Davies – his first role as an illustrator using the comic artist skills he developed in his youth.
James Goss has adapted three Doctor Who stories by Douglas Adams for BBC Books (City of Death, The Pirate Planet and The Kirikketmen). He's also written several original Doctor Who and Torchwood books. His novel Hatez is in development as a motion picture, and he's written for the stage and the radio. This is his first (and probably only) volume of poetry.
Forbidden Planet London Megastore
179 Shaftesbury Avenue, London, WC2H 8JR
0207 420 3666