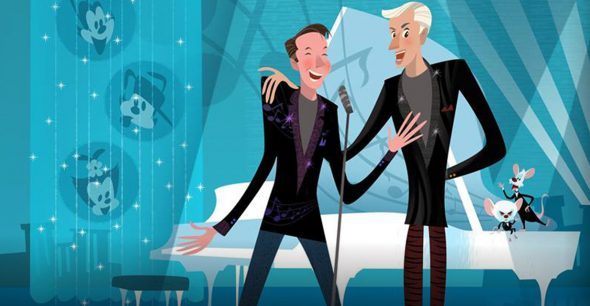 Actor Rob Paulsen (Yakko Warner, Pinky) and composer Randy Rogel bring ANIMANIACS LIVE to the Public Theater on Sunday, October 8th at 9:30 PM.  Get tickets at the link….
Animaniacs LIVE! is a musical revue starring original cast members Rob Paulsen (Yakko, and Pinky from "Pinky and the Brain"), accompanied by Emmy winning composer Randy Rogel, who wrote and created many of those memorable songs you STILL can't remove from your brain pan.
Featuring 20 songs from the run of the show, songs like 'Yakko's World' and 'I'm Mad' and set along cued up clips, Animaniacs LIVE! promises to help you relive the show's 90's glory. With over 2,000 half-hours of animation credits, Rob's versatility shines in his starring roles as the voices of Donatello (Nickelodeon's "Teenage Mutant Ninja Turtles"), Yakko Warner, Pinky and Dr. Scratch 'n' Sniff in the Peabody and two-time Emmy award-winning series "Animaniacs". Randy Rogel is a three time Emmy winner, who began as an original writer on Batman: The Animated Series, before joining the staff of Animaniacs writing most of the songs and many of the scripts. Animaniacs LIVE! is based on the beloved WB cartoon Animaniacs which delighted television audiences from 1992 to 1998. Cartoon clips will be shown alongside the talent. In addition to the concert, Rob and Randy share behind the scenes secrets about the making of the series. Whether you're a lover of music, animation, or fun, experience Animaniacs like never before in Animaniacs LIVE!
The Public Theater
425 Lafayette St, New York, New York 10003
(212) 539-8500