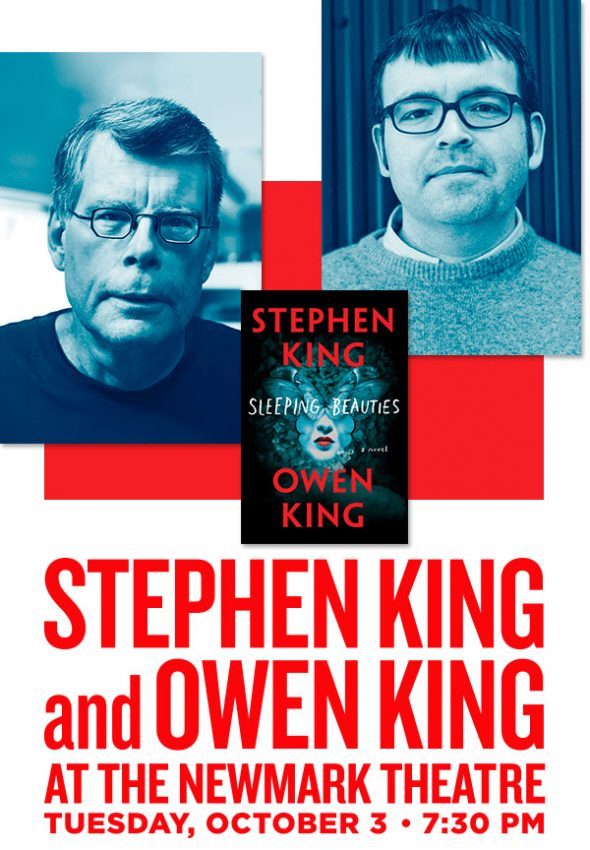 Press Release:
STEPHEN KING & OWEN KING, Father and Son Co-authors of SLEEPING BEAUTIES: A Novel appear at the Newmark Theatre on Tuesday, October 3, 2017 at 7:30 PM. Presented by Powell's Books. Tickets on sale Monday, August 14, 2017, 10 a.m.
Stephen King is the author of more than 50 books, all of them worldwide bestsellers. His son, Owen King, is the author of the novel Double Feature and co-editor of Who Can Save Us Now?: Brand-New Superheroes and Their Amazing (Short) Stories. Now, in Sleeping Beauties, they combine their literary powers to tell the highest of high-stakes stories: what might happen if women disappeared from the world of men?
In a future so real and near it might be now, something happens when women go to sleep; they become shrouded in a cocoon-like gauze. If they are awakened, if the gauze wrapping their bodies is disturbed or violated, the women become feral and spectacularly violent; and while they sleep they go to another place… The men of our world are abandoned, left to their increasingly primal devices. One woman, however, the mysterious Evie, is immune to the blessing or curse of the sleeping disease. Is Evie a medical anomaly to be studied? Or is she a demon who must be slain? Set in a small Appalachian town whose primary employer is a women's prison, Sleeping Beauties is a wildly provocative, gloriously absorbing father/son collaboration between Stephen King and Owen King.
Each ticket guarantees entry to the event, as well as one hardcover edition of Sleeping Beauties. As a special bonus, up to 400 of these books will be pre-signed and randomly distributed to lucky attendees at the event's conclusion. This event will feature Stephen and Owen King in conversation and will be followed by an audience Q&A. There will not be a public signing at this event.
Newmark Theatre
1111 SW Broadway, Portland, OR 97205
(503) 248-4335