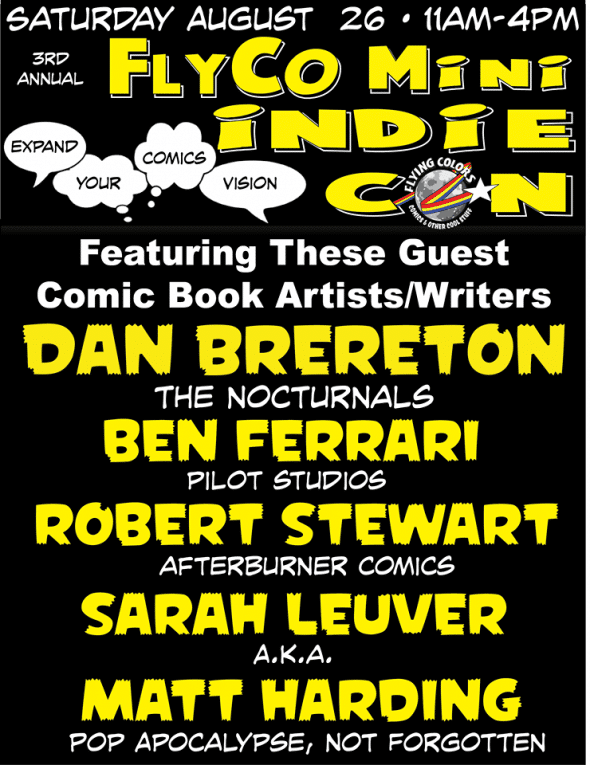 Dan Brereton, Sarah Leuver, Ben Ferrari, Matt Harding, and Robert Stewart appear at Flying Colors Comics on Saturday, August 26, 2017 from 11:00 AM – 4:00 PM for 3rd Annual FlyCo Mini Indie-Con! As part of the celebration of Jack Kirby's 100th birthday KIRBY KRACKLE will perform!
Dan Brereton was an early customer at Flying Colors in 1988, while still in art school and illustrating his first comics series THE BLACK TERROR. Five Eisner nominations and three decades of comics art and stories later, Dan has worked for most major comics publishers, on characters ranging from Batman and the JLA to Red Sonja and Vampirella. He's very proud of the fact his 1999 mini-series GIANTKILLER is set in the Diablo Valley, (home to a daikauju invasion ). His most personal and popular creations are the Nocturnals, the groundbreaking pulp noir monster adventure series. NOCTURNALS: THE SINISTER PATH is Dan's most recently released graphic novel and will be available at FlyCo Mini Indie-Con.
Sarah is a Bay Area based freelance artist with a specialty in all-ages comics. She'll be showing her "A.K.A." comic that we're pretty sure you're going to love! To see more of her work, follow Sarah on Instagram at "comickergirl."
Matt Harding is a Bay Area based comic book writer and artist. Among his credits include work for Stan Lee, Dynamite, 10 Speed press, ActionLab and more. He's the creator of Pop Apocalypse and is one of the instigators and contributors to the upcoming Not Forgotten anthology, due out this month.  Also out this month and featuring work by Matt Harding is the Alexander Hamilton graphic biography from 10 Speed Press.
Ben Ferrari is the Publisher, Editor in Chief and an artist at Pilot Studios, a local small press comic book publisher! He works on books like Carriers, Son Chasers, Saturn & Orion, Longhunters, Kurt Belcher's WORLD and many more! Not only will you find comics and graphic novels at his table, you'll find metal prints, puzzles (yeah, puzzles!), buttons and coloring books! He makes a lot of stuff and wants to show it to you!
Robert Stewart of Afterburner Comics. If you've tried his series before, there will be new editions for you. And if you haven't yet experienced Afterburner: Tales of the Wicked & the Cool, you're in for a panel to panel feast!
Flying Colors Comics
2980 Treat Blvd (at Oak Grove Rd), Concord, CA 94518
(925) 825-5410