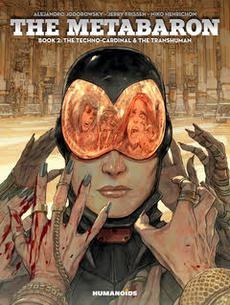 Artist Niko Henrichon signs The Metabaron 2: Techno-Cardinal and the Transhuman at the Forbidden Planet London Megastore on Thursday 24th August from 6:00 – 7:00 PM.
The Metabaron once single-handedly brought the Techno-Techno Empire to its knees. But in the chaos that followed, a new regime within the Techno-Techno civilization has rebuilt by seizing control of the galaxy's most precious fuel, the Epiphyte.
When this tyrannical new force learns that the Metabaron is back and headed towards Marmola, the only known source of Epiphyte, the Empire dispatches its most trusted servant: the notoriously invulnerable and cruel Wilhelm-100, The Techno-Admiral. Can the Metabaron save the universe once more, or has he finally met his match?
Niko Henrichon first came to the fore in 2001 with the publication of Vertigo's The Sandman Presents: Everything You Always Wanted to Know About Dreams…But Were Afraid to Ask, written by Bill Willingham. The following year he worked with Willingham again on The Sandman Presents: Taller Tales. Then in 2003, Vertigo gave Niko all of the illustration duties on a Howard Chaykin/David Tischman project entitled Barnum!
In 2006, he teamed up with author, Brian K. Vaughan, to create Pride of Baghdad, which won the Imagine Games Network (IGN) award for best original graphic novel. Henrichon has also illustrated are Fables, Marvel Comics Presents, New X-Men, Official Handbook of the Marvel Universe A to Z, Spider-Man Fairy Tales, Star War Tales and X-Men: Return of Magik, and has been one of the cover artists on Black Panther, Fantastic Four: True Story, Lockjaw and the Pet Avengers, Mirror's Edge, Vaistron, Shadow Hunter, and Dark X-Men: The Beginning.
Forbidden Planet London Megastore
179 Shaftesbury Avenue, London, WC2H 8JR
0207 420 3666