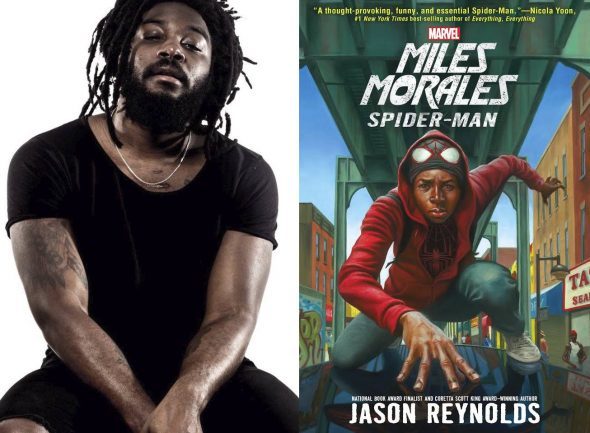 Author Jason Reynolds appears at Kepler's Books on Wednesday, August 2nd at 7:00 PM to present his new Miles Morales: Spider-Man novel. Tickets available at the link…
You know Jason Reynolds from his breakout novel When I Was The Greatest that received the John Steptoe Award for New Talent, as the New York Times bestselling author of the Coretta Scott King Honor book, The Boy in The Black Suit, the co-author of All American Boys with Brendan Kiely, also a Coretta Scott King Honor book, and as the inaugural recipient of the Walter Dean Myers Award. You may also know him as the author of the middle-grade novels As Brave As You, which won the Kirkus Prize and was nominated for an NAACP Image Award, and Ghost, which was selected as a National Book Award Finalist.
You may also know Spider-Man as Peter Parker.
This Fall, Jason Reynolds has joined the Marvel YA family with a novel about the new Spiderman, Miles Morales. Miles's spidey-sense has been on the fritz, a misunderstanding leads to his suspension from school, and Miles begins to question his abilities. Maybe kids like Miles aren't meant to be superheroes or is there something more going on?
Don't miss this chance to meet Jason Reynolds, one of the most promising Young Adult novelists in the market today, and celebrate all thing Spider-Man. Costumes encouraged.
Kepler's Books and Magazines
1010 El Camino Real, Menlo Park, CA 94025
(650) 324-4321