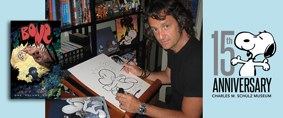 The Charles M. Schulz Museum celebrates its 15th anniversary on Saturday, August 12, 2017 with an all-star lineup of cartoonists!
Jeff Smith, creator of the award-winning comic book series Bone, will speak about his work and sign books as part of the Museum's 15th anniversary celebration. Like Charles Schulz did for the comic strip, Smith redefined the graphic novel format when he released The Complete Bone Adventures Volume One: Out From Boneville, which sold an unprecedented 50,000 copies in its first year. Bone won numerous awards including 10 Eisner Awards and 11 Harveys. In 2005, Bone was chosen to launch the first graphic novel series for children from a major publishing house, Graphix, an imprint of Scholastic Books. Smith's other works include Rasl and Tuki. Smith will headline a celebration of cartooning that will include:
11:00 am: Jarrett Krosoczka, New York Times best-selling creator of Star Wars: Jedi Academy and the Lunch Lady series will speak about his work.
Noon – 2:00 pm: Meet, watch, and talk to a variety of current professional cartoonists including Nathan Hale, creator of Nathan Hale's Hazardous Tales; Svetlana Chmakova of Awkward; plus Donna Almendrala, Brent Anderson, Tom Beland, Andrew Farago, Brian Fies, Mike Gray, Jaimel Hemphill, Scott Jeralds, Maia Kobabe, Brian Kolm, Emily Martin, Haley Martin, Jeff Schinkel, Denis St. John, and Thomas Yeates.
2:00 pm: In conversation with Jeff Smith, led by Paige Braddock of Jane's World and Lex Fajardo of Kid Beowulf. Jeff Smith, creator of the award-winning graphic novel series Bone, will discuss his work and the influence of Charles Schulz on his art and cartooning in general. Smith will sign books after this talk.
Free exclusive 15th Anniversary key chain to all Museum visitors on the day of the event!
Charles M. Schulz Museum
2301 Hardies Lane, Santa Rosa, CA 95403
(707) 579-4452