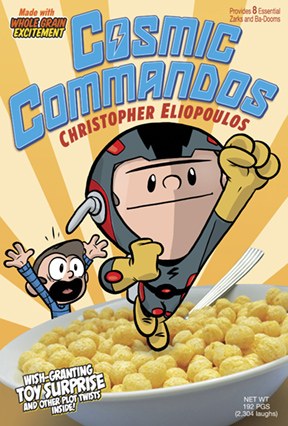 Cartoonist Christopher Eliopoulos (Cow Boy, Ordinary People Change the World, Pet Avengers) appears at Books & Greetings on Saturday, July 15th at noon to sign Cosmic Commandos!
​Jeremy and Justin are twins, but they couldn't be any more different from each other. Jeremy is a risk taker who likes to get his hands dirty; Justin prefers to read, focus, and get all his facts straight before jumping in. But they do have one important thing in common: They both love video games. When Jeremy wins a cereal-box charm that brings his favorite video game to life, villains and all, he finds that he's in way over his head. Justin knows everything there is to know about the rules of the game—he read the handbook, of course—and Jeremy isn't afraid to try new things. Can these two mismatched brothers work together to beat the video game that has become their life?
Events are ticketed. When you purchase your book you will receive a numbered ticket which is your number in the signing line. Each person attending needs to have their own book/ticket. Either stop in to the store or call 201.784.2665 to purchase your book and secure your place in the signing line.  NO ONLINE ORDERS FOR EVENTS All books must be purchased from Books & Greetings to attend the events.
Due to time constraints during book signings, only books purchased from Books & Greetings will be signed at our events.
Books & Greetings
271 Livingston Street, Northvale, NJ 07647
201.784.2665