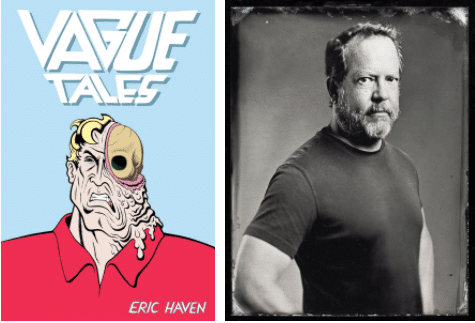 Eric Haven appears in conversation with cartoonist Rina Ayuyang at Pegasus Bookstore on Wednesday, July 12th at 7:30 PM to present his debut graphic novel Vague Tales.
ABOUT
While experiencing a succession of bewildering parallel universes, a solitary figure has telepathic encounters with a demonic aviatrix, a wandering crystalline being, a flaming sword-wielding warrior, and a mysterious sorceress, all within the confines of his own apartment. Vague Tales is the debut graphic novel from Eisner Award-nominated cartoonist Eric Haven (UR), who moonlighted as a three-time Emmy-nominated producer on the TV show MythBusters and has contributed short comic stories for years to esteemed publications such as The Believer and Kramers Ergot. Haven's work is dark, absurdist, and deadpan, reflecting the apocalyptic undercurrent of modern times. His inky, rubbery drawings buttress his black, absurdist humor.
Eric Haven was born in Syracuse, NY but has lived most of his life in the San Francisco Bay Area. He's worked as a security guard; in a Japanese sake factory; at Industrial Light + Magic; and on the TV show MythBusters, where he was a three-time Emmy Award nominated producer. His book UR (AdHouse) was nominated for an Eisner Award, humor category.
Rina Ayuyang is an Eisner and Ignatz-nominated cartoonist based in Oakland, California. She has exhibited at the Arlington Art Center, the Cartoon Art Museum, and been a cartoonist-in-residence at the Charles Schulz Museum. She also runs the comics imprint Yam Books, and plays the "nice" co-host on the comics podcast, The Comix Claptrap.
Pegasus Books Downtown
2349 Shattuck Avenue, Berkeley, CA 94704
(510) 649-1320