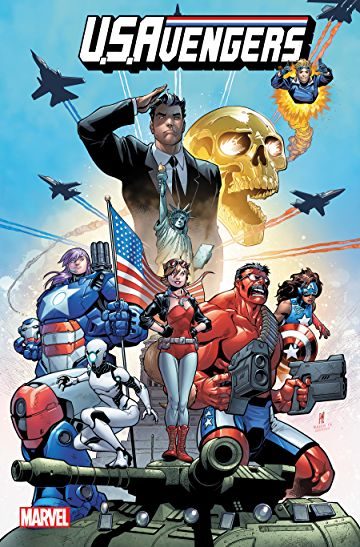 Writer Al Ewing will be signing U.S.AVENGERS VOL. 1 at the Forbidden Planet London Megastore on Saturday 21st July from 1:oo – 2:oo PM.
In a world beset by danger, the United States of America needs heroes they can rely on. Welcome to American Intelligence Mechanics! A.I.M. will protect the nation from the wildest, weirdest threats of all. And the most patriotic super-group ever will do it all while looking tried and true in the red, white and blue!
But when the Golden Skull launches his takeover bid, how will the team respond to the looming threat? With tuxedos. Really well-fitted tuxedos. It's socialism gone wild as the U.S.Avengers literally punch the business leaders of tomorrow right in their faces!
Plus: Monsters galore – including Red Hulk! American Kaiju! Vandoom! And, would you believe, Dedd-Puul, the Mercenary That Walks Like a Man! But when Steve Rogers gets serious, so must A.I.M. And where does that leave Roberto Da Costa?
Al Ewing began his career writing Judge Dredd and Future Shocks for 2000AD. He's contributed to Solar Wind, FutureQuake and The End Is Nigh, and is the creator of the comedic blog The Diary of Ralph Dibney. Breaking into American comic books, Ewing was picked by Garth Ennis to provide a six-issue arc on Jennifer Blood, and a spin-off series The Ninjettes. Ewing's debut novel was published in 2007 by Abaddon Books. He currently writes Mighty Avengers and Loki: Agent of Asgard for Marvel Comics, and co-writes the new Doctor Who title with Rob Williams.
Forbidden Planet London Megastore
179 Shaftesbury Avenue, London, WC2H 8JR
0207 420 3666