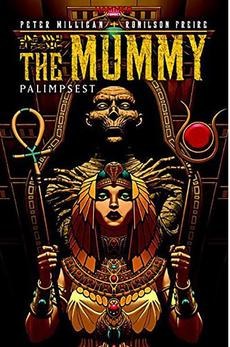 Writer Peter Milligan will be signing THE MUMMY: PALIMPSEST at our London Megastore on Thursday 6th July from 6:00 – 7:00 PM!
The timeless horror icon excavated for a brand new tale The first in Titan's new collaboration with legendary Hammer Films.
Once every 34 years, members of the sinister Sect of Anubis gather to drink the blood of a human sacrifice, used as a vessel to contain the imprisoned spirit of a long dead Egyptian High Priestess called, Nebetah, thereby gaining immortality. As the time draws near for the next sacrifice, the Sect's chosen victim, a young Ukrainian woman called Angel, has already begun to transform into Nebetah. It is a process that will see the young woman transformed into a rotting mummy as the spirit of Nebetah consumes her soul. However, there exists an ultra secret society, called the Pyramid Club, who are dedicated to eradicating the evil of the Sect. At the height of the ritual the club attack the secret headquarters of the Sect and in the confusion Angel escapes into the streets of London, half consumed by the soul of Nebetah. Forced to accept the help of Duncan, a young rising agent for the Pyramid Club society, the two of them must team up and take the fight back to the Sect of Anubis before the sands of time run out and the failed ritual claims the lives of everyone!
Peter Milligan is an award-winning London-based writer of comic books and graphic novels, published in many languages throughout the world. His work includes ground-breaking titles such as the psychedelic Shade The Changing Man and SKIN, about a skinhead suffering from the effects of Thalidomide, up to Greek Street, an homage to Greek myth seen through the prism of violent modern-day London. His work also includes the more mainstream, from Batman to the successful and critically acclaimed re-imagining of the X-Men myth: X-STATIX, described by Kevin Smith as "the most well-observed scholarly analysis of media-manipulation filtered through a pop-culture lens ever committed to the page". He has also had two films produced: Pilgrim starring Ray Liotta and An Angel For May, starring Tom Wilkinson.
Forbidden Planet London Megastore
179 Shaftesbury Avenue, London, WC2H 8JR
0207 420 3666