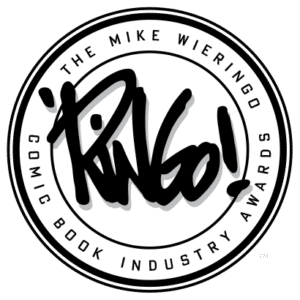 Press Release:
Pro and Fan Comic Book Awards come to "America's Greatest Comic Book Convention" and YOU GET A VOTE! The Mike Wieringo Comic Book Industry Awards is an annual celebration of the creativity, skill and fun of comics.
The awards make their debut this year as part of the fan- and pro-favorite convention, the Baltimore Comic-Con.
Nomination voting is now open for the inaugural 2017 Mike Wieringo Comic Book Industry Awards. Nomination ballot voting is open to the public (fans and pros) from June 27, 2017 until midnight on July 18, 2017. We encourage everyone to participate. Creators and new works published during 2016 are eligible.
Unlike other professional industry awards, the Ringo Awards include fan participation in the nomination process along with an esteemed jury of comics professionals.
More than 20 categories will be celebrated with top honors being given at an awards ceremony Saturday, September 23, 2017.
About Mike Wieringo
Michael Lance "Mike" Wieringo was known to fans and friends as "Ringo", which is how he signed his artwork. His comics artist graced the pages of DC Comics' The Flash, Adventures of Superman, Batman, and Robin, Marvel Comics' Fantastic Four, Friendly Neighborhood Spider-Man, Sensational Spider-Man, and Rogue, and his co-creation Tellos. He passed away on August 12, 2007 at the young age of 44 from an apparent heart attack.
"Mike loved comics," said Todd Dezago, co-conspirator with Wieringo on their creator-owned title Tellos. "He loved the pure escapism of them. He loved the imagination that went into them and the inspiration he got out of them. He loved the talent and skill that went into them; the innate abilities of the artists and the writers as well as the learned and developed facility that came with study and experience. He loved the storytelling of comics, he appreciated when it was done well. Mike loved the diversity of comics; the incredible array of styles that ran the spectrum and gave each creation its own unique flavor. And he loved fun comics. Not that Mike didn't appreciate the grim and the gritty, the deeper, more adult, more thought-provoking comics of the day. But he was drawn more to the more light-hearted, sometimes fanciful-and we called them 'overly-coincidental'-stories that reminded you that comics were fun.
"Mike liked comics that were fun," said Matt Wieringo, artist and brother to Mike. "That's pretty subjective and covers a lot of ground, right? He liked art that was expressive. Some people think that means 'cartoony' but that's not it. For instance, he loved Juanjo Guarnido's Blacksad art, and that's hardly cartoony, but it's expressive as hell. He loved the artists that could build a believable world and could tell a compelling story in that world with characters that were gestural and fun to look at. He loved artists who made their characters act. He also loved discovering new artists that didn't draw like anyone else because he loved learning from them. He had a huge collection of European comics that he couldn't even read, but he could study the artwork. He got excited about new artists and wanted to know who their influences were and what they read and how they worked. He read a lot of indie comics to see what was going on outside the mainstream. He was on board with Hellboy and Love & Rockets and Hate before they were "cool." Mike also loved Kirby before it was considered a badge of honor to proclaim it. He loved how innovative and energetic he was and that he was this Brooklyn bruiser with the heart of a hippy poet (a close approximation of how Mike once described him to me). And it wasn't just the art. He liked reading stories by writers who could keep things moving and exciting. Nothing bored him more than page after page of talking heads with quippy dialogue. He wanted STORY. He wanted ADVENTURE. And CONSISTENT CHARACTERIZATION. He liked working with Mark Waid because he loved how Mark can always find a new way to spin a familiar story and write characters you care about, relate to, and have their own voice. He loved working with Todd because they shared similar sensibilities and Todd always finds a way to inject FUN into the story. For Mike, "fun" didn't just mean light-hearted either. He enjoyed horror and noir and crime stories as much as anyone. As a kid, he devoured Miller's Daredevil and Sin City because the stories were compelling and well told. He loved Starlin's Warlock and Captain Marvel because they were epic and groundbreaking. He loved Wrightson and Ploog and Colan because they could set a mood. Most of all, Mike thought good comics were entertaining and innovative. If you could hold his attention and delight and intrigue his artistic sensibilities at the same time, he'd shout your name from the rooftops. And, if it turned out you were a decent, nice person to boot, he'd be your friend for life."
"We really miss Mike Wieringo," said Marc Nathan, Baltimore Comic-Con promoter. "Ringo was a great friend to the show, a great artist and creator, and a great person. It has been 10 years since his passing, and we wanted to do something to honor his spirit. These awards represent the creativity and positive attitude he brought to his work, and when we started floating the idea with his family and industry friends, everyone immediately loved it as much as we did. Having had some experience running a large industry awards show in the past, we had some great insights as to what the industry (and fans!) wanted, and we're trying to give it to them. This has all come together very quickly, and we know we're going to continue to adjust and adapt as we grow, but we are absolutely thrilled to have already heard from so many fans and pros alike, in addition to his family and friends, about how excited they are. Please spread the word. Please vote. And thank you for helping us celebrate Mike's memory!"