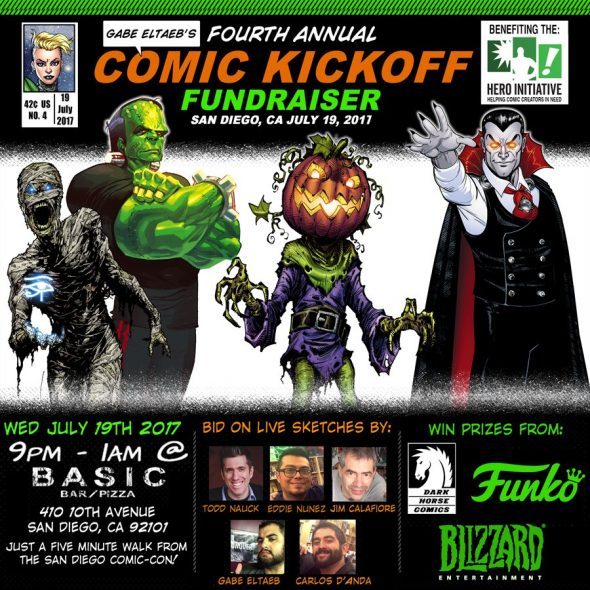 Head to Gabe Eltaeb's Fourth Annual Comic Kickoff Fundraiser and Party at Basic Bar and Pizza located in downtown San Diego on Wednesday July 19, 2017 from 9:00 PM – 1:00 AM! Entry is free, but a donation is suggested.
Celebrate the beginning of Comic Con on Preview Night just a few blocks from the San Diego Convention Center. Enjoy Pizza, drinks, music, and a chance to meet comic book professionals including Todd Nauck, Carlos D'Anda, Eddie Nunez, and Jim Calafiore plus other passionate pop culture fans.
This this event features the opportunity to meet and greet some great comic book artists and buy one of a kind sketches. Additionally we will have unique items from Blizzard, Funko, and Dark Horse Comics that you can enter to win.
All proceeds go to the Hero Initiative, the first-ever federally chartered not-for-profit corporation dedicated strictly to helping comic book creators in need. Hero creates a financial safety net for yesterdays' creators who may need emergency medical aid, financial support for essentials of life, and an avenue back into paying work. It's a chance for all of us to give back something to the people who have given us so much enjoyment.
Basic Bar/Pizza
410 10th Ave San Diego, CA 92101
619-531-8869