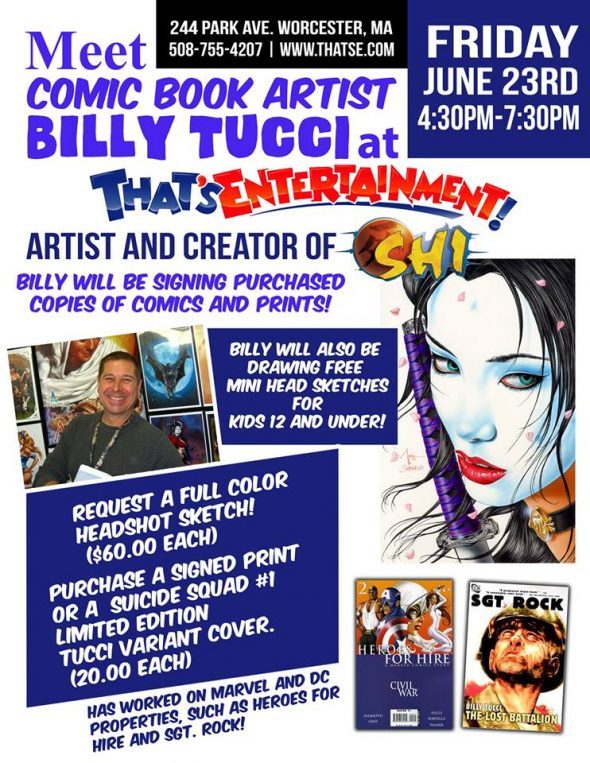 Writer/artist Billy Tucci (SHI, Sgt. Rock, Heroes for Hire) appears at That's Entertainment on Friday June 23rd from 4:30 – 7:30 PM to sign comics and prints as well as drawing sketches.
Billy will also appear that weekend at Massive Comic Con at the DCU Center. Discounted tickets are available at the link.
Press Release:
That's Entertainment of 244 Park Ave., Worcester, MA invites comic books fans to meet widely revered comic book artist and creator Billy Tucci on Friday, June 23rd, 4:30pm to 7:30pm. Best known for his creator-owned comic book Shi, Tucci will be welcoming fans to his table for friendly chat as he signs purchased copies of comics and prints. Attendees may bring items to be signed by the artist, or purchase prints directly from his table. He will also be drawing free head-sketches for kids twelve and under, and taking commissions from adults. This is a free all-ages event; however, some art prints and books may be for mature audiences only.
Working from a one-bedroom apartment in 1994, Billy Tucci self-published the comic property Shi. Shi is a female Japanese warrior character, who also made several crossover appearances in Daredevil, Wolverine, Witchblade, and other popular comic titles. According to Tucci, over 4 million Shi comics have been sold worldwide, along with a vast array of related merchandise, resulting in gross revenues of over 25 million dollars to date. Some may have seen Tucci's artwork in notable comic book titles such as Marvel's Heroes for Hire and DC's Sgt. Rock.
Tucci will be selling prints for $20.00 each (buy two get one free), and Suicide Squad #1 with limited edition variant Tucci covers ($20.00 each). Head shot sketches will be drawn upon request. Head shots are in full color, and can be drawn on sketch covers or art board ($60.00 each).
Marketer Sorana Gatej says, "I remember Tucci's Shi comic book from when I was just getting into comics back in the 90s. The artwork was beautiful and the character was intriguing. It's no wonder why the comic is still talked about to this day."
That's Entertainment
244 Park Ave, Worcester, MA 01609
(508) 755-4207