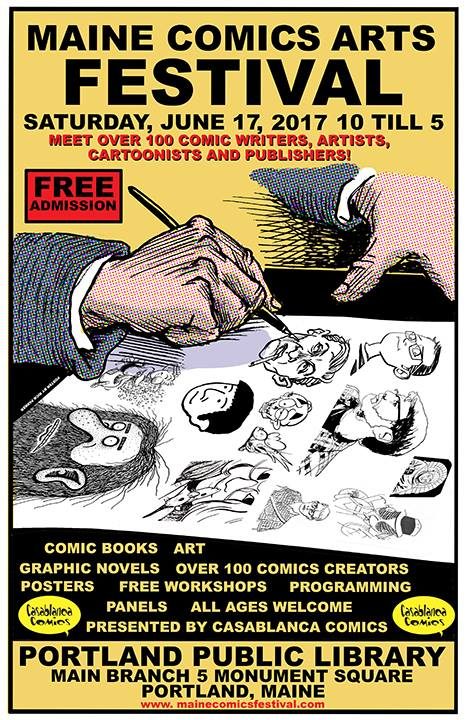 The Maine Comics Arts Festival (MeCAF) will be held in Portland on Saturday, June 17th, 2017 at the Main Branch of the Portland Public Library. The event is free and open to the public. Featuring over 100 comics writers, artists and publishers, this will be a celebration of the comics art form. RSVP on Facebook!
Cartooning workshop with Jay Piscopo: 10:30-11:30
Meeting Room 4
Using simple geometric shapes , we will create cartoon personalities as well as answer the question, "Where do ideas come from?" For kids 8 and up and parents can join in too. Paper and pencils provided And free Capt'n Eli coloring books!
Mask making with Emily Drouin 11:30-12:30
Children's Area
Create a fun comic book character mask using stencils or create your own unique character using your imagination! Makes a fun addition to your cosplay costume!
Risograph Comics Panel 11:30-12:30
Meeting Room 5
An open discussion about producing comics for print on Risograph. Covering format basics advantages and shortcomings. And exploring advanced projects and notable comics book work.
With local comic creator and printers including Andrew Scripter (Wing Club Press, Preachers Fire), Shawn Brewer, Zach Cunningham, Zoe Maebe (One Page Stinkers) and Roho (Hellbound, River Bird Comics).
Includes Q&A.
"Let's Draw Spider-Man with Joe St. Pierre" 12:30-1:30
Meeting Room 4
Who has a better costume design than Spidey? Nobody, that's who! Let's all sit down and learn how to draw him, from Joe St. Pierre, the artist who has drawn more Spidey #1 issues than any other artist.
Liz Prince 1:30-2:30
Teen Library Area
Most great comic artists have gotten their start self-publishing, and Liz Prince is here to give you some helpful tips & tricks on how to publish your very own comics. This workshop will be perfect for people who have never made a zine or mini comic before, and informative for those who want to learn new ways to think about the medium. Structured in a show and tell format, you will get to see many of Liz's long out of print books, as well as items from her personal collection for inspiration. No drawing skills required!
Anthology Comics 2:30-3:30
Meeting Room 5
Editors of various anthology comic collections discuss how to participate in an anthology, contribute and get work published.
Creature Workshop 3:30-4:00
Meeting Room 4
Join cartoonists Braden Lamb and Shelli Paroline in inventing your own weird and unique monster design – then bring it to life in a comic!