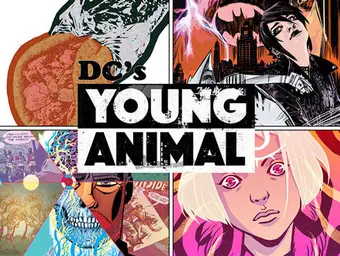 Gerard Way, Nick Derington, Cecil Castellucci, Jody Houser, and Jon Rivera appear at Barnes & Noble on Saturday June 24, 2017 at 7:00 PM.
Gerard Way is the Eisner Award-winning writer of The Umbrella Academy and former vocalist and co-founder of the rock band My Chemical Romance. He will be curating DC's Young Animal, a new mature reader pop-up imprint of DC Comics that will consist of four series and feature his creative direction. Gerard Way will be joined by Cecil Castellucci (Shade the Changing Girl), Nick Derington (Doom Patrol), Jody Houser (Mother Panic), and Jon Rivera (Cave Carson Has A Cybernetic Eye).
Special Instructions
This will be an amazing panel discussion and signing, early release comics and more, available only at Barnes & Noble Old Orchard on June 24th. Authors will only sign comics purchased at Barnes & Noble Old Orchard.
Barnes & Noble – Old Orchard
55 Center Street, Skokie, Illinois 60077
(847) 676-2230