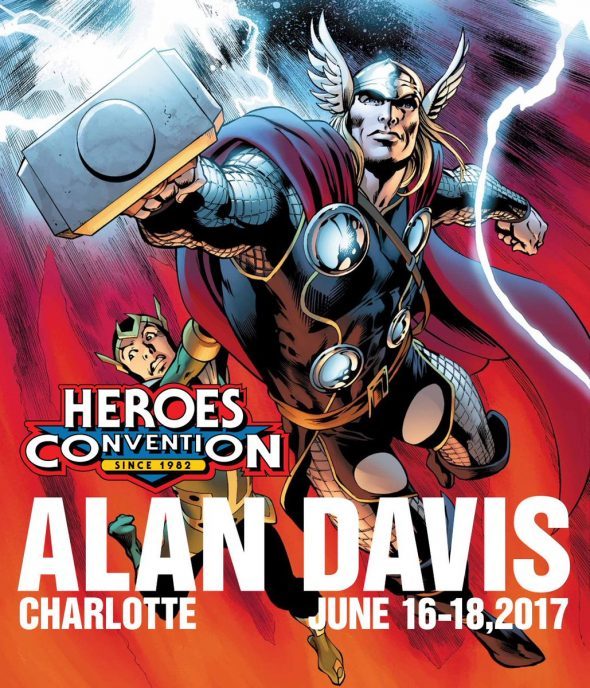 HeroesCon has announced more new guests for their 35th anniversary show including Alan Davis, Joe Quinones, Stephane Roux, Jim Shooter, Kevin Siers, Mark Texeira and more! HeroesCon 2017 takes place June 16-18, 2017 at the Charlotte Convention Center.
CRAIG BOLDMAN | Archie Comic, Tailipoe!, Cap'n Catnip, Superman
J CHRIS CAMPBELL | Creator of Neatobots, Zig Zag & Publisher of Wide Awake Press
ALAN DAVIS | Captain Britain, Batman, Marvelman, Excalibur, JLA: The Nail, X-Men, Hulk
TEE FRANKLIN | Bingo Love, Love Is Love, The Outfit, Inclusive Press
GHOSTWRITER X | Swordquest, Lucha Liberty, Down, Set, Fight!
BIZHAN KHODABANDEH | The Little Red Fish
SHAWN PRYOR | Cash & Carrie, Kentucky Kaiju, F.O.R.C.E.
JOE QUINONES | America, Howard the Duck, Star Wars, Black Canary/Zatanna
TIM RICKARD | Brewster Rockit, Space Guy!
STEPHANE ROUX | Harley Quinn, Star Wars, Zatanna, Birds of Prey, Action Comics, Batman
HEIDI SHEPHERD | Butcher Babies, Blood Sister
JIM SHOOTER | Legion of Super-Heroes, Secret Wars, Solar: Man of the Atom
KEVIN SIERS | Pulitzer Prize winning cartoonist, Charlotte Observer?
DURWIN TALON & GUIN THOMPSON | Beautiful Scars, Bonds, Batman
MARK TEXEIRA | Wolverine, Ghost Rider, Moon Knight, Sabretooth, Jonah Hex, Space Punisher

RSVP on the Facebook event page!
For the most up-to-date information, check our blog, or sign up for the weekly Heroes Hotline newsletter. You can also follow us on Twitter and Facebook!
BUYING AN ADVANCE PASS MEANS YOU'LL GET ANY ADVANCE INCENTIVES WE OFFER, FREE!
ENTRY WILL BE $25: FRI $25: SAT $20: SUN / AT THE SHOW ITSELF, SO YOU SAVE AS MUCH AS $20 BY PURCHASING ADVANCE PASSES TODAY! TICKETS ARE NOT REFUNDABLE, UNDER CERTAIN CIRCUMSTANCES WE MAY CREDIT AN UNUSABLE TICKET TOWARD FUTURE TICKET PURCHASES.
HEROES CONVENTION was founded in 1982 by Shelton Drum, owner of Charlotte's Heroes Aren't Hard To Find comics shop. Since then the convention has become famous for its comics-first and family-friendly atmosphere, where fans can mingle directly with professionals and exhibitors. Boasting an incredible guest list built mainly on reputation and goodwill, HeroesCon is known nationwide as a "must" on the summer schedule, drawing fans, exhibitors, and creators from all over the world to the Charlotte Convention Center.