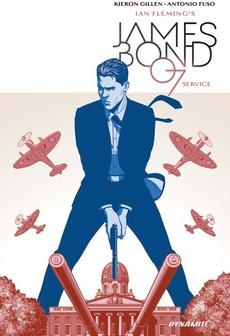 Writer Kieron Gillen signs JAMES BOND: SERVICE: SPECIAL one-shot at Forbidden Planet's London Megastore on Wednesday 24th May from 6:00 – 7:00pm.
Please note change of date.
A stand-alone, oversized special written by Kieron Gillen and drawn by Antonio Fuso, with a thrilling take on the icon of espionage!
In contemporary politics, where Britain's world standing is often more zero than 007, an assassin plans to exterminate the 'special relationship,' and lead Britain and the United States into a very dark place…especially when he does so by aiming down the sights of an ancient Enfield rifle! It'll test Bond's deadly talents to their limits, in order to defeat the assassin and avert certain geopolitical disaster…
Kieron Gillen's writing career has includes comics titles Phonogram, Young Avengers, and The Wicked + The Divine. He's been writing for Marvel since 2008, on titles including Thor, Journey Into Mystery, Uncanny X-Men, and Iron Man. His Marvel work from 2015 also includes Darth Vader, Angela, and the much acclaimed Star Wars: Doctor Aphra. For Avatar Press, he's written WW2 superhero book Uber, and Mercury Heat. His other works for Image include the Spartan Slave Hunt story, Three.
Forbidden Planet London Megastore
179 Shaftesbury Avenue, London, WC2H 8JR
0207 420 3666